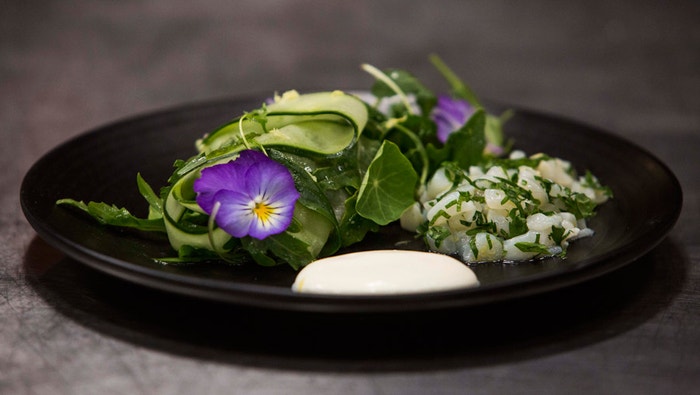 Steps
For the Scallop Ceviche, slice scallops in half then finely dice. Place in a small bowl lined with cling wrap. Add lemon zest, juice and vinegar and mix well. Cover and set aside in fridge for at least 1 hour.
For the Compressed Cucumber, slice 12 lengths from the cucumber using a vegetable peeler. Place into a sous vide bag. Juice remaining cucumber and 1 tbsp of mint leaves. Pour into bag over cucumber and vacuum seal until air is just removed. Set aside in fridge.
For the Cultured Cream, whisk crème fraiche to stiff peaks. Stir in yoghurt and season with salt to taste.
To serve, remove scallops from fridge. Stir chopped parsley and mint leaves through and divide between serving plates. Remove cucumber from bag, drain and toss with remaining tablespoon chopped mint, rocket, nasturtiums, parsley, tarragon, olive oil and salt. Place Compressed Cucumber Salad onto serving plates, dot with Cultured Cream and garnish with edible flowers.