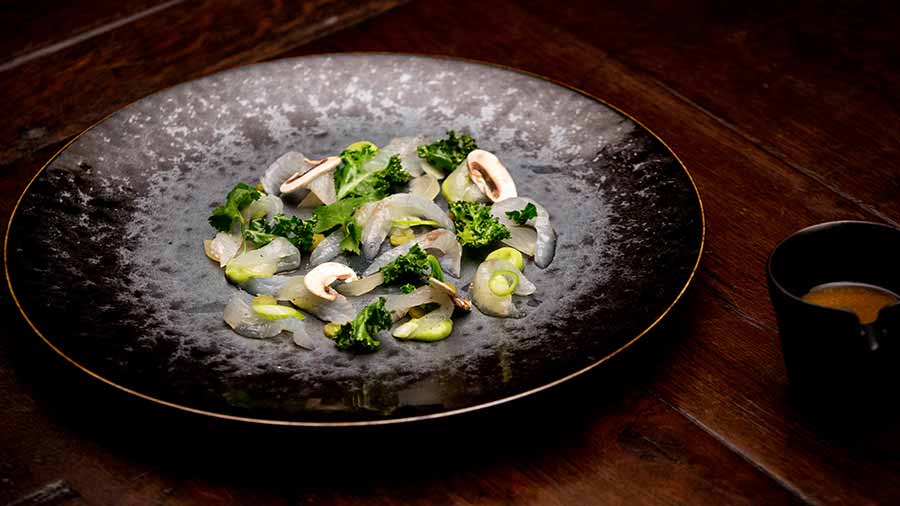 Ingredients
King George Whiting Sashimi
Avocado and Coriander Purée
Steps
For the Whiting Sashimi, remove fillets from both King George Whiting, remove skin, trim and square fillets and set aside in the fridge. Chop bones and head finely and set aside.
For the Roast Bone Dressing, place a medium saucepan over a medium heat. Add vegetable oil and when hot, add reserved chopped whiting bones and head and cook, stirring until golden brown, about 8-10 minutes. Add ginger, garlic, lime leaf, coriander stalks and roots and cook for 1 minute. Deglaze pan with soy sauce, fish sauce and 200ml of water. Add gochujang then bring to a simmer and then continue to simmer for 1 minute. Remove from heat and allow flavours to infuse for 10 minutes.
Add lemon juice and yuzu, season with salt to taste, then strain through a fine sieve into a clean bowl. Transfer to an airtight container and set aside at room temperature until needed.
For the Avocado and Coriander Purée, place avocado flesh into the canister of a stick blender. Add coriander leaves, 100ml water and lemon juice and blend to form a smooth, vibrant purée. Pass through drum sieve and season with salt and freshly ground white pepper. Transfer to a squeeze bottle and set aside in the fridge until needed.
For the Crispy Kale, heat oil in a medium saucepan over medium heat to 180C.
Dry kale thoroughly using a clean tea towel. Working in batches, add kale to the hot oil and cook until crisp, about 30-40 seconds. Remove from oil and place onto paper towel. Season with salt and set aside.
To finish the King George Whiting Sashimi, slice whiting, skin side up, starting from the tail on a 45 degree angle, as thinly as possible. Season slices with olive oil, sea salt and pepper.
To serve, arrange pickled baby onions and cornichons around the serving plate. Neatly lay fish pieces over the onions then pipe dots of the Avocado and Coriander Purée next to each piece of fish and onion. Garnish each piece of fish with a piece of spring onion. Fill gaps with button mushrooms and pieces of Crispy Kale. Using a teaspoon, dress each piece of fish on the plate with some of the Roast Bone Dressing.