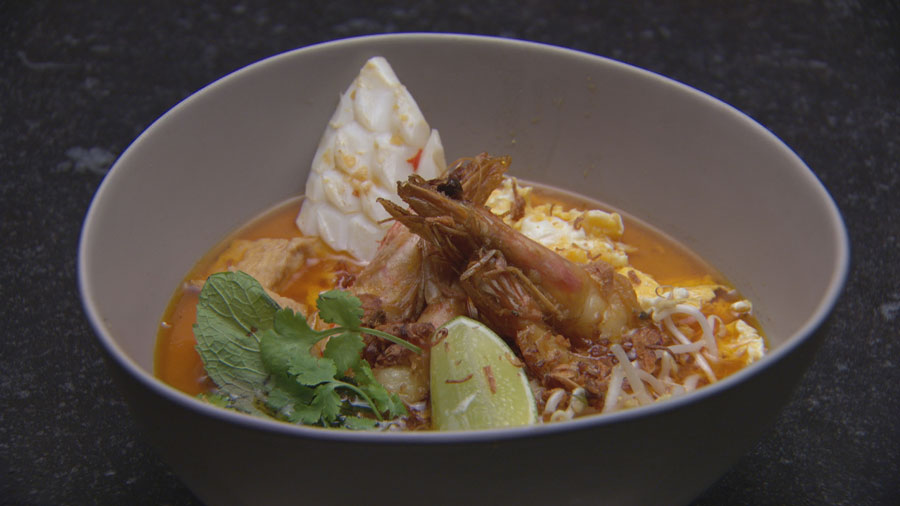 Steps
Put 3 litres water in a large pot and bring to a boil over high heat. Add the chicken and carcass and return to a boil. Reduce heat, cover and allow to simmer, until chicken is cooked through, about 20-25 minutes. Remove the chicken and plunge into cold water to stop cooking process. Remove skin and shred chicken into bite size pieces. Set aside.
Add stock powder to the remaining water and chicken bones, increase heat to high and continue to boil.
Meanwhile, put 1 tablespoon vegetable oil in a frypan over medium heat. Add dried shrimp and cook until fragrant, about 2 minutes. Remove shrimp, add half to the boiling stock and set half aside. Add a further tablespoon vegetable oil to the pan, add the fresh and dried chillies, shallots, garlic and lemon grass and cook until softened and fragrant, about 5 minutes. Transfer the mixture to a food processor and add reserved cooked shrimp, candlenuts, deep fried shallots, cumin seeds, coriander seeds, star anise, cloves, nutmeg, and cardamom, and process until smooth.
Heat ½ cup peanut oil in a wok over medium heat, transfer the paste from the food processor and cook, stirring frequently, until fragrant, about 10 minutes. Add 1 tablespoon salt and palm sugar and continue to cook until palm sugar has melted.
Transfer the cooked paste to the chicken stock which is continuing to boil. Add the tamarind skins, prawn shells, coconut milk, fish sauce and shrimp paste. Continue to boil about another 20 minutes. Strain stock into a clean saucepan and place over medium heat. Add ground sesame seeds and peanuts and allow to simmer gently until ready to serve.
Meanwhile heat ½ cup peanut oil in wok over high heat. Add the prawns and deep fry until just cooked, about 3 minutes. Remove prawns from oil, season with salt and set aside.
Add squid to the oil and cook until squid starts to curl and is just cooked, about 1 minute. Remove the squid from the oil, season with salt and set aside.
Take 3 tablespoons of the prawn and squid cooking oil and place in a small frypan over high heat. Add the beaten egg and cook, stirring only as necessary to make an omelette, about 2 minutes. Remove omelette from pan, cut into strips and set aside.
To serve, divide the rice vermicelli, bean sprouts, shredded chicken, prawns, squid and omelette between the 4 bowls. Spoon over the broth. Garnish with sliced chillies, coriander and mint leaves, deep fried shallots and a wedge of lime.