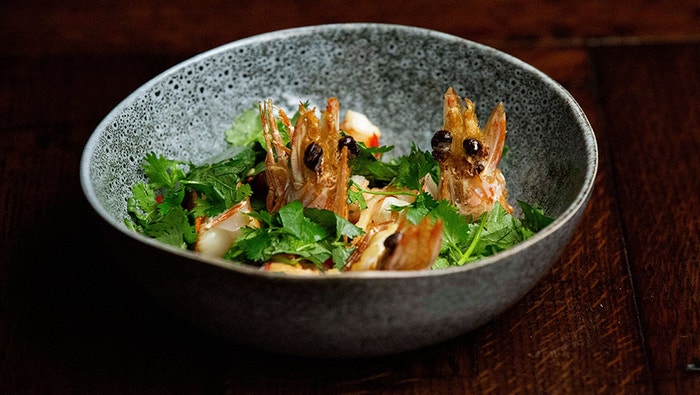 Steps
Preheat the oil in a deep fryer to 180C.
For the Fresh Herb Salad, combine the herbs in a medium bowl, cover and set aside in the fridge. Combine the remaining ingredients in a small bowl and stir until the palm sugar has dissolved. Set aside.
For the Sambal, place the shallots, ginger, lemongrass, chillies, garlic and coriander roots into the bowl of a food processor and process to a smooth paste.
Place a wok over a medium heat. Add the oil, then fry the Sambal paste, stirring regularly for 8-10 minutes.
Add kaffir lime leaves, lime juice, fish sauce and palm sugar and cook, stirring regularly until the colour turns golden, about 5 minutes.
Stir in the coconut milk, reduce the heat to low and allow to reduce until deep brown golden in colour, about 25-30 minutes. Season with salt, if required then remove from the heat.
For the Seared Prawns, place a large frypan with the oil over high heat. Season prawns with salt then add to the pan, in batches, and cook until golden and the prawns are firm, about 2 minutes on each side. Remove from the pan and set aside.
For the Crispy Prawn Heads, place the prawn heads, in batches, into the hot oil and fry until golden and crispy, about 5-8 minutes. Remove from the oil and drain on paper towel.
To serve, spread some Sambal over the base of each serving bowl. Cut the Seared Prawns in half and arrange over the Sambal. Add the Crispy Prawn Heads. Toss the dressing through the herbs and arrange the Fragrant Salad around the bowls.