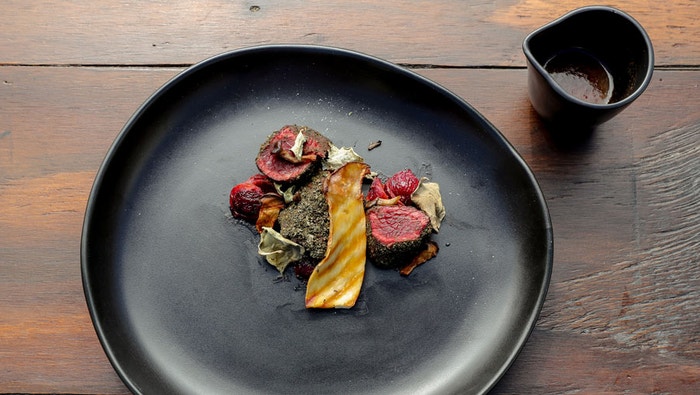 Steps
Preheat oven to 180C.
For the Quandong and Lamb Jus, place lamb bones into a medium sized deep pan and set over high heat. Fry until well browned and caramelised all over.
Meanwhile, place the plum juice, sugar, honey, quandongs and vinegar in a medium sized saucepan on high heat and cook until quandongs are hydrated, about 15 minutes. Remove from heat.
Ladle ¾ of the mixture including the quandongs into the pan of caramelized lamb bones to deglaze the pan and cook until reduced by half. Reserve the remaining quandongs for serving.
Strain the reduced stock into a small saucepan. Place on medium heat and reduce again by half. Add butter, 1 cube at a time, while whisking, until the thickened and glossy. Remove jus from heat. Season with salt and set aside, keeping warm, until required.
For the Salt and Vinegar Saltbush, pick saltbush leaves and place in a medium bowl. Add vinegar and stir until well coated. Strain, place leaves on a baking tray and place in oven to cook until crispy, about 15-20 minutes. Remove from oven and sprinkle with salt.
Reserve one half of the saltbush for serving and crush remaining half in a mortar and pestle to a fine powder. Set aside until required.
For the Charred Mushrooms, place a griddle pan over high heat. Brush mushrooms with olive oil and place on hot griddle pan. Cook, turning mushrooms to make char lines criss cross over mushrooms. Remove from pan and set aside, keeping warm, until serving.
For the Saltbush Roo, place a large pan on high heat and add olive oil. Season kangaroo fillets and place in pan to cook for 1 minute on each of the four sides.
Remove from heat, brush lightly with the Quandong and Lamb Jus and leave to rest for 5 -10 minutes. Brush the fillets again with the jus and then roll in the powdered saltbush.
To serve, cut each fillet into 3 equal portions and place Satbush Roo on serving plates. Add reserved quandongs and Charred Mushrooms. Add Salt and Vinegar saltbush leaves and serve Quandong and Lamb Jus in a jug on the side.