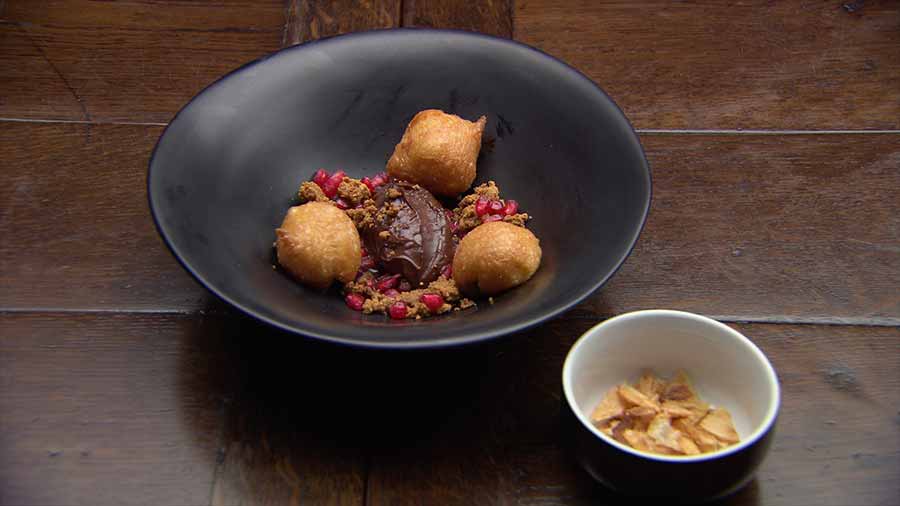 Ingredients
Caramelised White Chocolate
Pommes Dauphine Dumplings
Steps
Preheat oven to 170C. Set deep fryer to 180C.
For the Dark Chocolate Ganache, place dark chocolate callets into a medium bowl and set aside. Place cream into microwave safe container and cook in 30-second bursts until just under boiling point.
Pour the hot cream over the dark chocolate callets and allow to sit for 2 minutes, then stir until chocolate has melted. Transfer to a shallow bowl and place into the fridge to firm until ready to serve.
For the Balsamic Vinegar Gel, place gelatine into a bowl of cold water and set aside to soften.
Place the remaining ingredients into a medium saucepan over medium heat and bring to just below boiling point, stirring occasionally. Once boiling, remove from the heat.
Squeeze out the gelatine to remove excess water, add to the hot vinegar mixture, and stir until dissolved.
Strain through a fine mesh sieve and into a shallow tray lined with cling film. Place into the fridge until just set then remove from the fridge and set aside on the bench until needed for plating.
For the Caramelised White Chocolate, line a baking tray with baking paper. Spread the white chocolate callets onto the lined baking tray and place into the oven, stirring chocolate every 5 minutes, until golden and crumbly, about 15-20 minutes. Place tray into freezer until ready to serve.
For the Potato Crisps, slice potatoes thinly using a mandolin and wash slices under running water. Pat slices dry with paper towel to remove excess moisture. Add potato slices to the deep fryer and fry until golden and crispy. Remove crisps from the fryer and drain on paper towel. Season well with salt. Crush into shards and set aside for plating.
For the Pommes Dauphine Dumplings, chop potatoes into sixths. Place into the saucepan of simmering water and cook until very tender. Drain potatoes and push through a drum sieve into a clean bowl and set aside.
Place butter and 85ml water into a small saucepan. Place over low heat until butter has melted. Once butter has melted, add flour all at once and use a wooden spoon to beat until the mixture forms a ball and comes away from the sides of the saucepan, about 2 minutes. Remove from the heat and allow to cool for 3 minutes. Gradually add egg, and beat with a wooden spoon to form a sticky, shiny dough.
Transfer the dough to the bowl of a stand mixer fitted with a paddle attachment, add sugar and beat for 2 minutes. Add reserved mashed potato and beat until well combined, about 1 minute. Transfer dough to piping bag and cut the tip of the piping bag to 2cm wide.
Oil a dessert spoon and hold over the deep fryer. Pipe a heaped tablespoon sized ball of dumpling mix onto the greased spoon and drop carefully from the spoon into the fryer oil. Cook until golden, turning occasionally, about 5-6 minutes. Remove from the deep fryer and drain on paper towel. Sprinkle with salt.
To serve, place 1 tablespoon of Vinegar Gel on the bottom of a shallow serving bowl. Place a rocher of the Dark Chocolate Ganache on top of gel and sprinkle with a little salt. Place 3 Pommes Dauphine Dumplings around the ganache. Sprinkle with crumbled Caramelised White Chocolate and pomegranate seeds. Prior to serving, sprinkle Potato Crisp shards over the ganache and serve immediately.