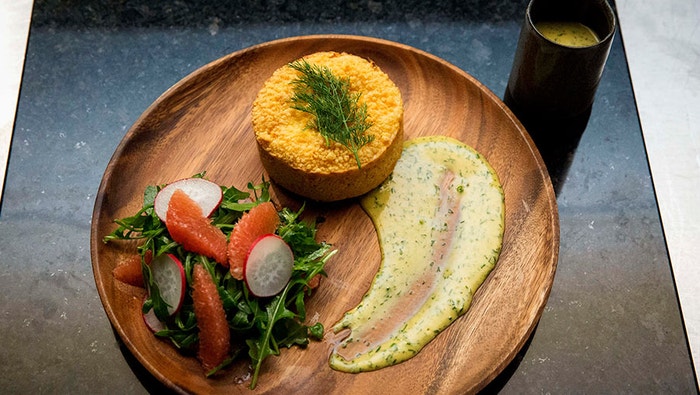 Steps
For the Mayonnaise, place egg yolk, lemon juice and mustard into a tall canister and use a stick blender fitted with a whisk attachment to combine. With the whisk running, slowly add the olive oil and continue to mix until emulsified. Cover and set aside in the fridge.
For the Poached Salmon, place salmon fillet and peppercorns in a medium bowl. Cover with boiling water then allow to stand for 5 minutes to partially cook through. Drain and set aside until needed.
For the Salmon Pie, combine flour, cheese, butter, salt and paprika in a food processor and blitz to a fine crumb. Set aside 1 cup of crumb in a small bowl for later use.
Press remaining crumb into 4 x 10cm springform pan bases and press down to 3-5 mm thickness.
To make the filling, place sour cream, mayonnaise, chopped onion, and eggs in a bowl and mix well to combine.
Spoon 3 tablespoons of the filling mixture to each of the spring form tins. Flake Poached Salmon on top of the filling up to the top edge of the tin. Top each with some capers, a little lemon juice and zest and fill with remaining filling mixture.
Cover pies with reserved crumb mix and bake in the oven until golden and set, about 30-35 minutes.
For the Mustard and Dill Sauce, place egg yolk, Dijon mustard and caster sugar into a tall canister and use a stick blender fitted with a whisk attachment to whisk until creamy. With the whisk still running, gradually add olive oil until emulsified, then stir in red wine vinegar and dill.
For the Grapefruit, Rocket and Radish Salad, first make the vinaigrette. Combine grapefruit and lime juice, oil and salt in a bowl and whisk well to combine. Toss rocket leaves through the vinaigrette to coat. Prepare remaining ingredients.
To serve, place the Salmon Pie onto one side of the serving plate and top with a fresh sprig of dill. Arrange a handful of the dressed rocket leaves next to the pie and top with sliced radish and grapefruit segments. Smear the Mustard Dill Sauce in a half moon shape on the plate. Serve with the remaining Mustard and Dill Sauce in a small jug.