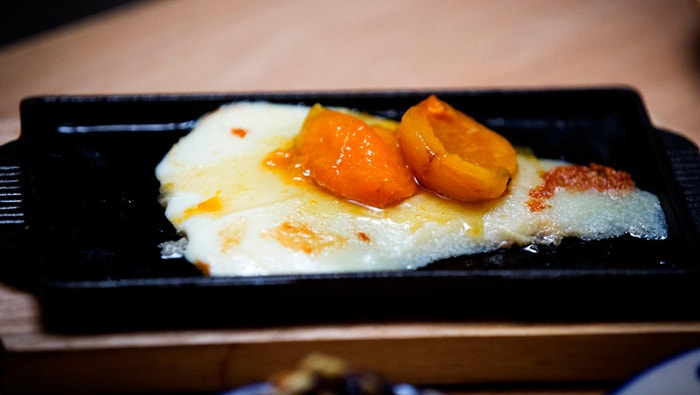 Steps
Heat oven to 180C.
For the Beetroot Dip, peel beetroots, cut into quarters and place into a large baking dish. Add 20ml of the olive oil, cumin seeds and salt and toss well. Roast until soft, about 50 minutes. Remove from oven and set aside to cool.
Once cool, place into a food processor along with goat's cheese, crème fraiche, lemon zest, thyme and salt to taste. Blend until smooth. Season with remaining 60ml extra virgin olive oil, red wine vinegar and salt to taste. Blend again for a few seconds until well combined.
Transfer Beetroot Dip to a serving plate, drizzle with a little extra olive oil and thyme leaves and set aside.
For the Saganaki and Apricots, cut apricots in half, remove stone and place into a small, baking dish lined with baking paper. Sprinkle with spices and sugar. Bake for 25 minutes until apricots are soft and syrup has formed in the dish. Remove from oven and set aside.
Place a small cast iron serving plate into oven to heat. Place a large non stick frypan onto the stovetop over high heat. When hot, add cheese portions and sear until golden on one side. Turn cheese carefully and sear other side until golden. Remove hot cast iron serving plate from the oven and transfer cheese to the plate. Spoon apricots and syrup over the cheese and serve immediately along with Beetroot Dip and warm pita bread.