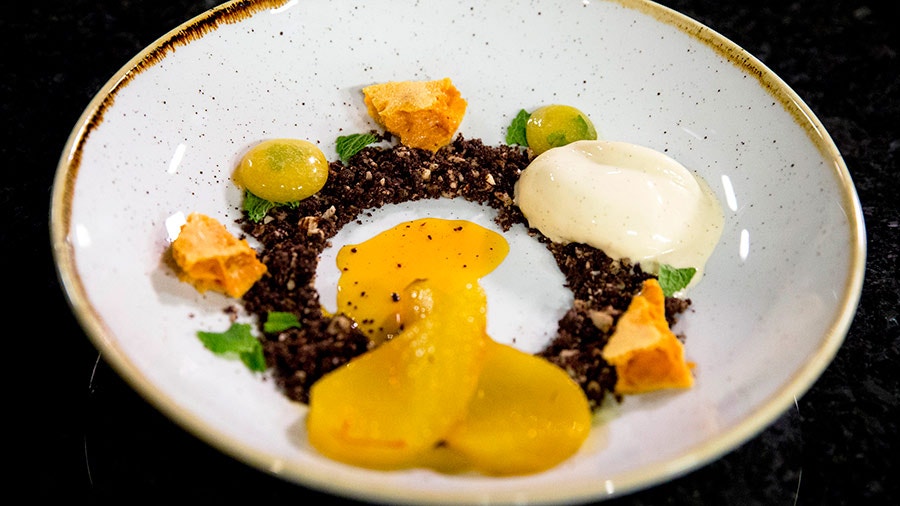 Steps
Preheat oven to 165C. Turn on ice cream machine to chill according to manufacturers instructions
For the Saffron Poached Pears, combine all ingredients with 1 litre of water in a small saucepan over medium heat and bring to the boil, stirring occasionally. Once boiling, reduce heat to low then cover and simmer pears until tender, about 30 minutes. Remove from the heat and set saucepan aside in the fridge until needed.
For the Smoked Vanilla Ice Cream, combine cream, milk and vanilla bean paste in a medium saucepan over low heat and bring just to the boil. Meanwhile, whisk egg yolks and sugar together in a medium sized bowl until pale.
Remove milk and cream mixture from the heat and whisk into the egg mixture until combined. Pour mixture back into the saucepan and place over low heat, stirring continuously, until mixture reaches 85C and thickens slightly.
Remove from heat, pour mixture into a medium sized bowl set over an ice bath to cool. Once completely cooled, strain through a fine sieve into a clean bowl and seal bowl tightly with cling film.
Insert the hose of a smoking gun into the bowl and light smoking chips. Allow the bowl to fill with smoke then remove hose and seal bowl again tightly. Set aside to smoke for 5 minutes, refill bowl with smoke and set aside for 5 minutes. Remove cling film and transfer mixture to the ice cream machine and churn until set, about 40 minutes. Once set, transfer canister to the freezer until needed.
For the Chocolate Almond Soil, line a baking tray with baking paper. Place all ingredients into a food processor and blitz to a coarse crumb. Pour crumb onto the lined baking tray and bake in the oven until crisp, about 12-15 minutes. Remove from oven and set aside until required.
For the Honeycomb, line a baking tray with baking paper. Place sugar, honey and 1 tablespoon of water into a medium saucepan and stir to combine. Cook over low heat, stirring occasionally, until amber in colour, about 4 minutes. Remove from heat and whisk in bicarbonate of soda. Pour onto pre lined baking tray and set aside to cool completely.
For the Nectarine Spheres, place 2 cups of water and the sodium alginate into a tall stick blender canister and blitz with a stick blender until completely combined. Transfer solution to a medium sized bowl and set aside to bloom.
Meanwhile, place diced nectarines into a medium sized bowl and use a stick blender to purée nectarines until smooth. Mix calcium lactate and lemon juice together in a separate small bowl then add to the nectarine and blitz to combine. Add sugar and blitz until dissolved. Pass through a fine sieve into a clean bowl and add mint leaves.
Fill a medium sized bowl with water and set aside until required.
Using a teaspoon sized measuring spoon, gently drop portions of the nectarine mixture into the reserved bowl of sodium alginate solution for 3 minutes to form a membrane. Gently remove spheres from the alginate solution and place into the bowl of clean water.
For the Spiced Saffron Syrup, strain 150ml of the poaching liquid from the reserved saucepan of poached pears into a clean small saucepan. Add lemon juice and place over medium heat until syrup has thickened, about 3 minutes. Remove from heat and set aside until needed.
To serve, spoon the Chocolate Almond Soil in a ring around the plate. Place 2 or 3 shards of Honeycomb along the ring of soil. Arrange 2 pieces of Saffron Poached Pear on top of the Chocolate Almond Soil and place a quenelle of the Smoked Vanilla Ice Cream on the opposite side of the soil ring. Drizzle with some of the Spiced Saffron Syrup and finish with some picked mint leaves.