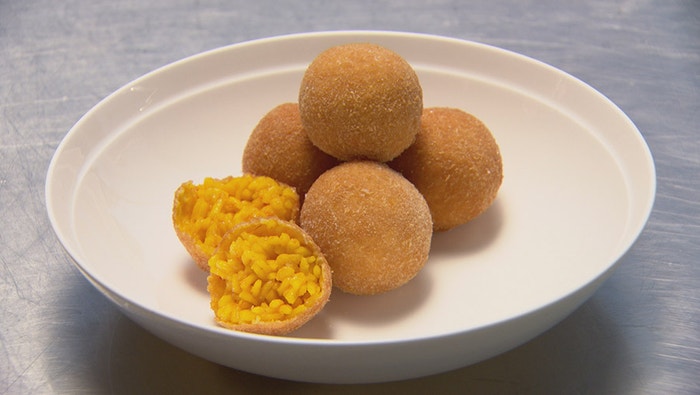 Steps
For the Arancini Filling, line a baking tray with baking paper.
Divide cold risotto mixture into 10 even portions and roll into balls. Place balls onto lined tray and set aside in the fridge for 20 minutes to firm up.
Meanwhile, prepare the Crumb Mix by placing flour into a medium sized mixing bowl. Season with salt and pepper and set aside on the bench.
Place lightly beaten eggs in a medium sized bowl and set aside next to the flour mix.
Place Panko crumbs into a food processor and blitz to a fine crumb, transfer to a medium sized bowl and set aside next to the flour and egg bowls.
Remove risotto balls from the fridge. Carefully roll balls in flour, ensuring they are evenly coated. Shake off excess flour and then dip into egg, allow excess egg to drip off then dip into crumbs and coat evenly.
Once all balls are crumbed, dip balls into the egg, a second time, then coat with a second layer of crumb. Gently roll each ball between your palms to ensure crumbs are firmly pressed. Return crumbed balls to a tray lined with baking paper and place back into the fridge for 20 minutes to set.
Heat frying oil in a medium saucepan to 180C.
Fry arancini in batches, until golden brown, about 3-4 minutes.
Remove arancini from oil and place onto a tray lined with paper towel to drain. Season and serve.