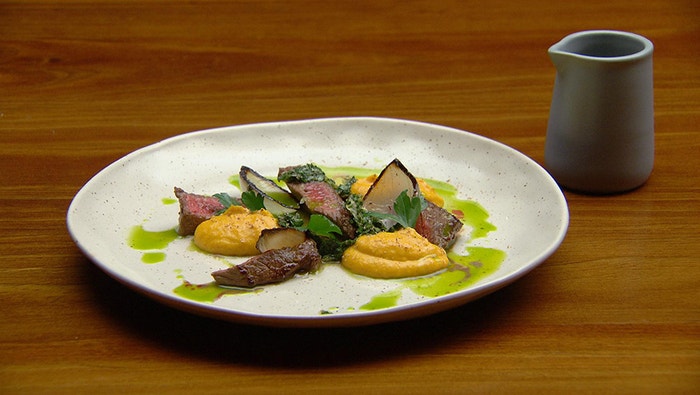 Steps
Preheat oven to 180C.
For the Carrot Puree, place a large saucepan of water over high heat and bring to a boil.
Meanwhile, peel carrots, reserving peel for Jus, and cut into even sized pieces. Place in a vacuum bag with remaining ingredients then seal bag. Place bag into the pot of boiling water and cook until tender when pressed, about 40 minutes.
Transfer contents of bag to a blender, discard parsley, then process until a smooth puree. Pass through a fine sieve into a bowl. Set aside, covered, keeping warm until serving.
For the Gremolata, place anchovies in a small frypan and set over low heat. Fry until they start to dissolve then remove from heat and transfer to a bowl. Add parsley, lemon zest, lemon juice, and olive oil and mix well to combine. Set aside until serving.
For the Parsley Oil, blanch parsley in boiling water for 30 seconds then place immediately into a bowl of iced water to cool. Drain parsley and squeeze out excess water.
Transfer parsley to a blender. Add olive oil and lemon juice and blend until parsley is pureed. Strain oil through muslin cloth into a bowl, season with salt and set aside until serving.
For the Charred Onion, place an ovenproof fry pan over high heat. Cut onions in half then place cut side down in the hot pan and fry until heavily charred. Add stock and transfer pan to the oven. Cook until tender, about 15 minutes. Set aside, keeping warm, until serving.
For the Jus, place oil in a medium saucepan and set over medium heat. Add carrot peel, celery, and anchovies and cook until golden, about 4-5 minutes.
Meanwhile, place another frypan over high heat. Cut onion in half then place in hot pan, cut side down, and cook until charred.
Transfer charred onion to saucepan with carrot peel. Add bones, guanciale and rump trimmings and cook until golden brown, about 5-6 minutes. Deglaze the pan with red wine then simmer until reduced to one third. Add 500ml water and simmer until reduced by half. Remove from heat and strain through a fine sieve into a small saucepan. Return to heat and continue to simmer until reduced to about ½ cup thick liquid. Add butter and whisk until jus becomes thick and glossy. Season to taste, then set aside, covered, keeping warm, until serving.
For the Beef Rump, place a frypan over high heat. Season rump with salt, pepper and olive oil then sear in the hot pan for 2 minutes. Flip the steaks, add butter and garlic to and cook for a further 1 ½ - 2 minutes basting the meat with the butter. Remove from the pan and rest steaks for 10 minutes before serving.
To serve, place Carrot Puree on 4 serving plates. Slice the Beef Rump and add to the plate. Add Charred Onion, Gremolata, Parsley Oil and Jus.