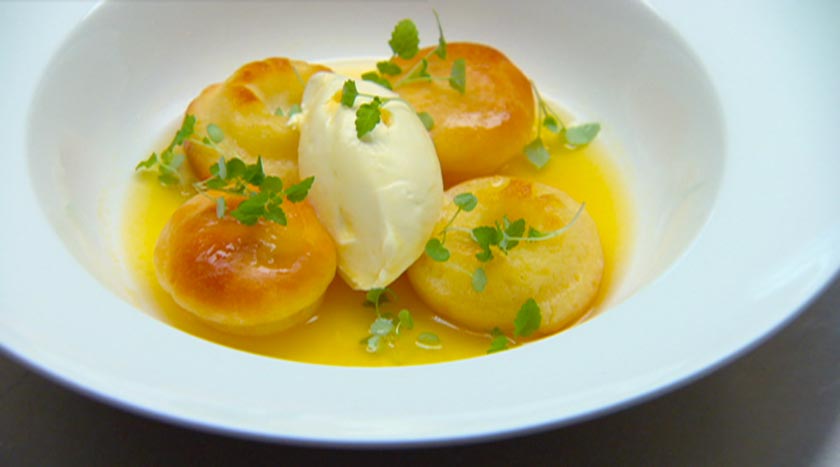 Steps
Warm milk gently in a small saucepan set over low heat until lukewarm. Turn off heat, add yeast and sugar, and swirl the pan until yeast and sugar dissolves, stirring if necessary.
Place flour into the bowl of an electric mixer fitted with a paddle attachment and turn onto low speed. Slowly pour in eggs, mixing until combined. Gradually add yeast mixture to bowl, and continue to mix for about 2 minutes or until flour is incorporated, occasionally scraping down the sides of the bowl. Increase speed to medium, and continue to mix for a further 3 minutes until dough is sticky. Very slowly and gradually pour in butter, mixing for about 4 minutes until dough is soft, smooth and combined.
Transfer mixture to a piping bag fitted with a 12mm nozzle.
Lightly grease an 18-hole petit savarin mould. Alternatively you can use 40ml mini-muffin pans. Pipe dough ¾ of the way into moulds, cutting mixture with scissors. Place tray in a plastic bag and sit in a warm, draught-free place. Allow mixture to prove for about 45 minutes or until risen about 1/3 above the mould. Lightly wet your finger with water, and press the mixture evenly into the mould if necessary.
Meanwhile, preheat oven to 185C.
Place tray into oven and bake for 8-10 minutes or until golden and cooked through. Remove from oven and allow to cool slightly before gently releasing babas from the mould into a large bowl.
For the syrup, place water, sugar, and passionfruit puree into a saucepan and slowly bring to the boil. Cook until reduced by a third, stirring occasionally. Remove from heat and allow to cool slightly.
Spoon warm syrup into bowl with babas, turning occasionally until they are completely soaked and soft.
To serve, spoon syrup into bowls and divide babas among each. Serve with cream and garnish with lemon balm, if desired.