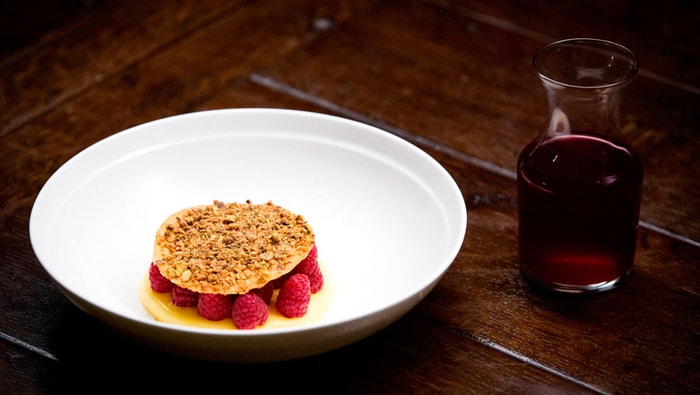 Steps
Preheat oven to 180C.
For the Clarified Butter, melt butter in a small saucepan over low heat. As the butter begins to foam on the surface, skim with a spoon and discard the foam. Remove from heat and skim any remaining solids from the top of the liquid and discard. Pour clarified butter into a clean bowl and set aside until required.
For the Rosewater Bavarois, place gelatine in a bowl of iced water and set aside to bloom.
Place cream, rosewater and cardamom in a small saucepan over low heat until just warmed through. In a separate bowl, whisk egg yolks and sugar together until thick and pale. Slowly pour the warm cream mixture into the egg yolks and sugar mixture, whisking continuously until combined.
Pour mixture back into the saucepan and place over low heat. Squeeze out gelatine to remove excess water and add to the mixture. Stir gently until gelatine has dissolved and mixture is slightly thickened. Strain into a clean bowl and chill over an ice bath until cooled.
Set up 4 dariole moulds on a deep baking tray. Once mixture has cooled, pour into the dariole moulds. Carefully fill the tray with water to halfway up the sides of the moulds. Add some ice blocks to the water. Carefully place a second tray on top of the moulds to weigh them down and place into the fridge until just set, about 40-45 minutes.
For the Raspberry Syrup, place a small saucepan of water over medium heat and bring to a simmer. Combine all ingredients in a medium glass bowl and cover with aluminium foil. Sit the bowl over the saucepan of simmering water, stirring occasionally until soft, about 30-35 minutes. Once soft, remove from heat and strain through a fine sieve lined with muslin cloth. Transfer to a jug and set aside.
For the Brik Pastry, place all ingredients into a bowl and whisk until combined. Cover bowl with cling film and place into the fridge to rest for 15 minutes.
Bring a small saucepan of water to the boil. Sit a 20cm non-stick frypan over the small saucepan of boiling water. Lightly brush the frypan with oil and use a paper towel to wipe out excess oil.
Remove rested batter from the fridge. Using a pastry brush, brush a thin layer of the batter onto the frypan. Coat with a second thin layer of batter to ensure all holes are covered up. Leave to steam until pastry beings to lift away around the edges, about 5 minutes. Gently peel pastry layer away from the frypan and place onto a chopping board lined with baking paper. Cut pastry into a 10cm disc using a ring cutter, remove excess pastry from the edges and discard. Repeat this process with the remaining pastry.
Brush each pastry disc with some Clarified Butter on both sides then transfer to a paper lined baking tray. Cover discs with a second layer of baking paper and top with a second baking tray to weigh down. Bake in the oven until golden, about 8-10 minutes. Remove from oven and set aside to cool. Reserve remaining clarified butter for plating.
For the Spiced Nuts, place all nuts onto a paper lined baking tray and roast in the oven until golden, about 5 minutes. Remove and set aside to cool.
Meanwhile, place all spices into a small frypan over medium heat and toast until fragrant, about 3 minutes. Remove from heat and transfer to a mortar and pestle. Grind spices to a powder and place into a food processor. Add cooled roasted nuts and caster sugar to the food processor and blitz to a coarse crumb. Set aside.
To serve, gently unmould Rosewater Bavarois onto plate. Top with fresh raspberries. Brush the Brik Pastry discs on one side with a little Clarified Butter and coat with the Spiced Nuts. Shake excess nuts off the disc and place disc on top of the fresh raspberries. Serve Raspberry Syrup on the side.