All Recipes
Rosemary Skewered Lamb Back Strap with Roasted Beetroot, Tomato, Figs, Feta and Merlot Reduction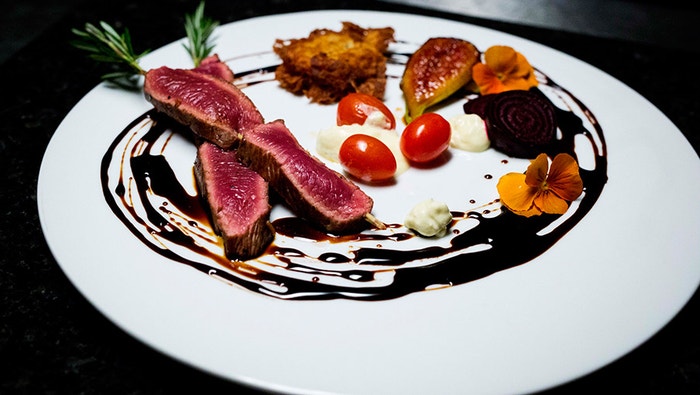 Steps
Preheat oven to 180C.
To make the Roasted Beetroots, drizzle beetroots with olive oil, season and wrap individually in aluminium foil. Place onto a baking tray and into the oven until tender, about 40 minutes. Remove from oven and set aside.
To make the Lamb Skewers, prepare rosemary sprigs by removing leaves, leaving approximately 3cm in tact at one end. Clean up sprigs with a knife set aside. Place oil, anchovies, garlic, rosemary, oregano, chilli flakes and lemon juice into a bowl and mix to combine. Add back strap to bowl and coat completely with marinade, cover and set aside.
To make the Feta Mousse, place feta and cream cheese into a food processor and process until smooth. Meanwhile, whip cream in an electric mixer to soft peaks. Fold feta and cream cheese through cream until combined and transfer to a piping bag. Set aside in fridge.
To make the Merlot Reduction, place merlot vinegar in a small saucepan and bring to a simmer. Add brown sugar, stir through and simmer until reduced by half, about 5-6 miniutes. Remove from heat and set aside to cool.
To make the Potato Rosti, place grated potato into a clean tea towel and wring out any excess moisture. Mix potato and egg in a bowl until combined, portion mixture into 4 balls and set aside. Heat oil in a medium sized pan and add potato balls and flatten with a metal spatula. Cook until golden on each side, about 3-4 minutes. Remove from heat and drain with paper towel, season while hot and set aside.
To make the Caramelised Figs, place a small frypan over medium heat. Cut figs in half lengthways and coat cut side with brown sugar, place cut side onto frypan until caramelised, about xx minutes.
To cook the Lamb Skewers, heat a frypan over medium heat. Cook lamb until browned on each side, about 2-3 minutes. Transfer pan to oven and cook for 3-4 minutes or until cooked to your liking. Remove from heat and rest for 5 minutes. Slice lamb into medallions and thread onto rosemary sprig skewers.
To serve, drizzle merlot reduction around plate and place skewers on top, followed by a potato rosti, tomatoes, fig and beetroots. Pipe some feta mousse around plate and finish with micro herbs.