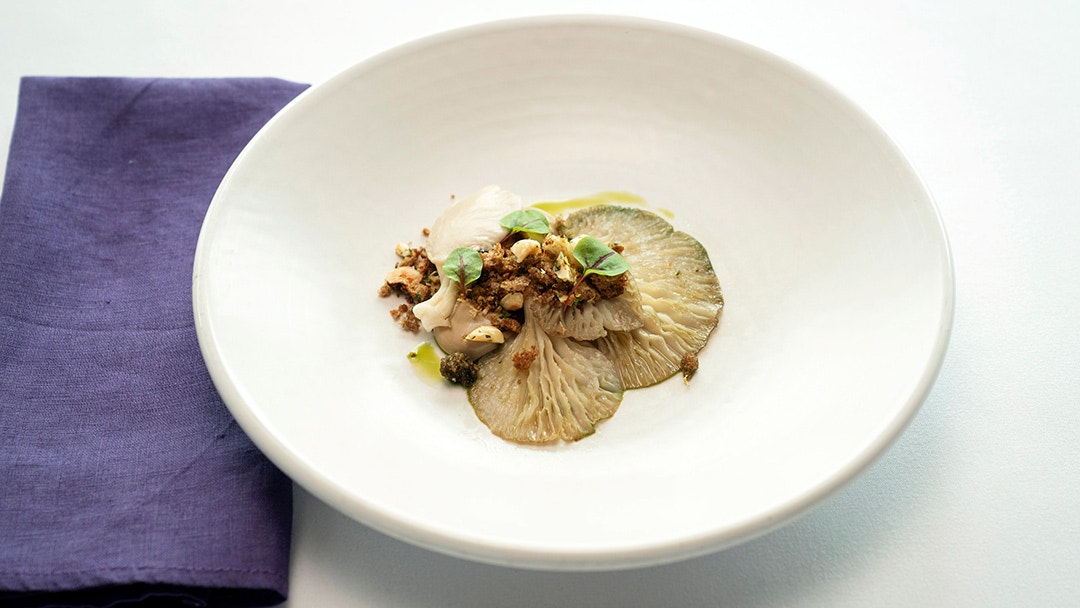 Ingredients
Shimeji and Oyster Mushroom Pickle
Steps
Preheat oven to 180C.
For the Mushroom Puree, heat the oil in a large saucepan over medium heat. Add the shallots and garlic and sauté until soft.
Add the mushroom, miso, smoked butter and cook down until mushrooms are soft and tender. Pour the mushroom mix into a blender.
Add the remaining ingredients and blend on high until smooth.
Pass through a sieve and adjust seasoning with salt and white pepper
For the Roasted Oyster Mushrooms, place mushrooms onto a lined baking tray and drizzle lightly with olive oil.
Season with salt and bake until lightly golden brown, about 5-7 minutes.
For the Hazelnut Pangrattato, place the bread on a lined baking tray. Drizzle with olive oil and season with salt.
Bake until golden brown and dry. Remove from the oven and transfer to a chopping board. Chop to a coarse crumb then transfer to a bowl.
Add the remaining ingredients and toss through until combined. Set aside.
For the Shimeji and Oyster Mushroom Pickle, place ingredients along with 160ml water , except mushrooms, into a small saucepan. Bring to the boil and set aside to cool slightly. Pour over the mushrooms and set aside until required. Drain well to serve.
For the Parsley Oil, bring a small saucepan of salted water to the boil. Prepare an ice bath in a small bowl.
Blanch parsley in the boiling water for 5 seconds then remove from the water and refresh in ice bath. Once cold, drain the leaves and using paper towel, squeeze out as much water as possible. Transfer to a small food processor, add the oil and process until smooth. Pour through a muslin lined sieve into clean bowl and set aside to strain. Season the strained oil with salt and transfer to a squeeze bottle. Set aside.
To serve, place the Roasted Oyster Mushrooms in the centre of each plate. Pipe Mushroom Puree onto the plates and add some Hazelnut Pangrattato between. Add the Pickled Shimeji and Oyster Mushrooms, a drizzle of Parsley Oil and garnish with micro sorrel leaves.