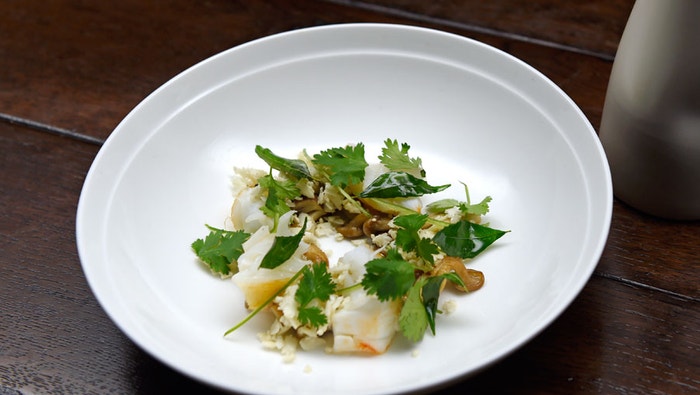 Steps
Preheat oven to 180C.
Place a heat proof baking dish on the stove top over high heat and add oil. Sear lobster tail in shell, add butter and cook until caramelised, basting with the butter, about 4-5 minutes.
Add ginger slices, green chilli and toss to combine. Transfer the baking dish to the pre-heated oven and cook for 4-6 minutes until lobster is cooked. Remove meat from shell, trim off red membrane and tear into bite sized pieces. Set aside until needed and reserve the baking dish and pan juices.
For the Coconut and Armagnac sauce, return baking dish to heat. Heat the olive oil then add ginger and garlic and cook until aromatic, about 2 minutes. Add Armagnac and water and bring to the boil. Combine cornflour with a little water to make a paste and add to pan, stirring until well combined slightly thickened.
Add butter and coconut cream and cook until sauce has thickened. Add fish sauce and mirin and stir through. Strain and transfer to a serving jug.
For the Asian Mushrooms, place a frypan over high heat. Add oil and butter and sauté mushrooms with salt, to taste, for 8 minutes. Add chilli and ginger and cook until mushrooms are golden and caramelised. Remove chilli and ginger and set mushrooms aside until needed.
For the Cauliflower, bring a medium saucepan of water to the boil. Very finely chop the cauliflower and blanch in the boiling water for 2 minutes. Strain the cauliflower and refresh in a bowl of iced water for 2 minutes. Strain again, season with pepper and salt to taste and set aside until needed.
To serve, arrange mushrooms in the base of 4 serving bowls. Divide lobster meat evenly between the serving bowls, over the mushrooms. Spoon seasoned cauliflower symmetrically around the plate. Garnish with fresh leaves and green chilli and serve with sauce on the side.