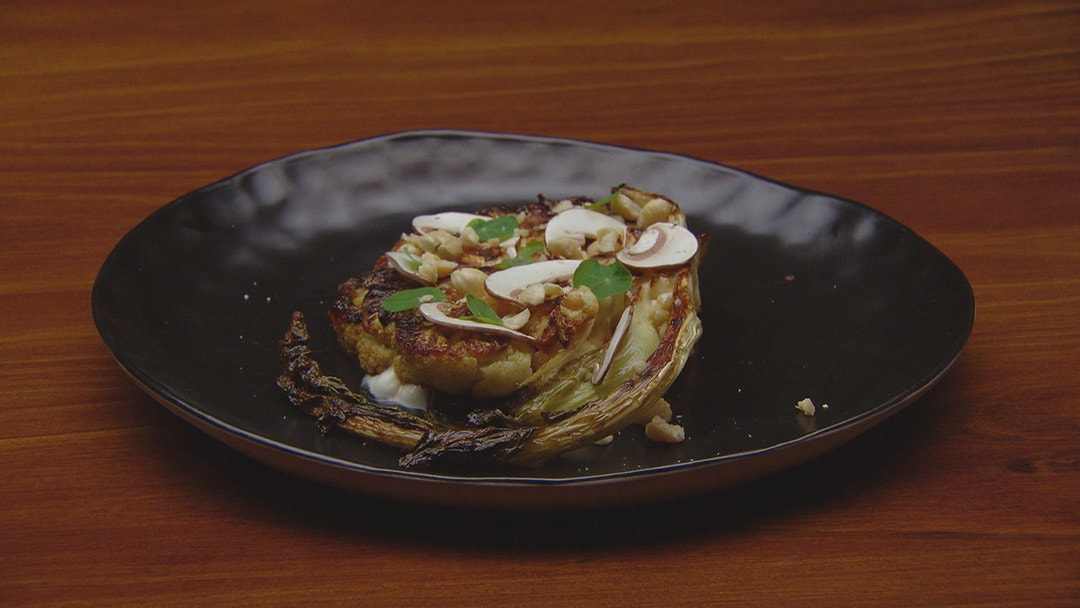 Ingredients
Cauliflower with Sherry Vinegar Caramel
Steps
Preheat oven to 180C.
For the Sherry Vinegar Caramel, place the sugar into a medium frypan and place over medium heat. Allow sugar to melt , swirling the pan occasionally until amber in colour. Remove from the heat and carefully add the vinegar and 30ml water. Whisk over low heat until combined. Remove from the heat.
For the Roasted Cauliflower, place a large frypan over medium heat. Brush the cuts sides of cauliflower steaks generously with olive oil and place into the pan. Cook until caramelised, about 3 minutes on each side. Remove the cauliflower from the pan and place onto a wire rack set over a shallow baking tray. Brush with some Sherry Vinegar Caramel bake, brushing with the caramel, until tender and golden, about 30 minutes.
For the Smoked Black Garlic Toum, place the olive oil in a frypan over low medium heat heat. Add the shallots and garlic and cook until softened. Add the black garlic and cook until ingredients become sticky and dark, taking care not to burn. Remove from the heat.
Transfer to the canister of a stick blender and blend until smooth. Set aside in the fridge to cool. While blending, gradually add the oil and blend until smooth. Transfer to a shallow bowl, cover with cling film and smoke the toum using a smoking gun for 20 minutes. Transfer to a piping bag and set aside.
For the Roasted Hazelnuts, place hazelnuts onto a medium tray and roast in the oven until golden and skins are starting to lift.
Remove from the oven and transfer the hazelnuts to a clean tea towel. Rub vigorously to remove the skins. Allow hazelnuts to cool slightly then chop and set aside.
For the Lemon Yoghurt, place ingredients into a small bowl and mix together. Transfer to a piping bag and set aside in the fridge.
To serve, place the Roasted Cauliflower onto a large serving plate. Pipe some Lemon Yoghurt and Smoked Black Garlic Toum around the Roasted Cauliflower. Garnish with Roasted Hazelnuts, mushrooms and nasturtiums.
Tip: leftover cauliflower can be kept and used in another dish or roasted at the same time and used in salad the next day.