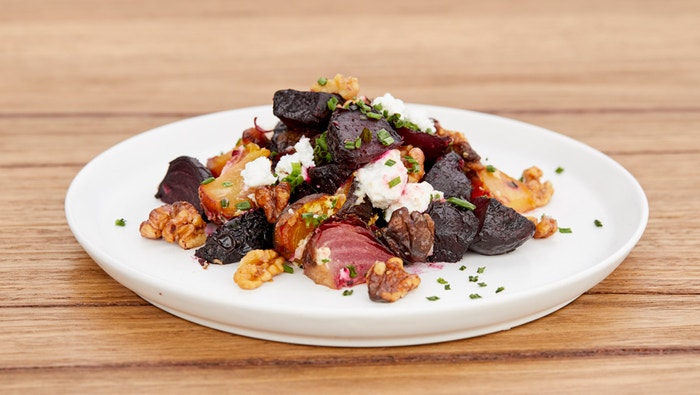 Steps
Preheat oven to 220C.
For the Roasted Beetroots, trim tops and bases from beetroots and wash thoroughly under running water. Place each beetroot variety into a separate small baking dish. Drizzle with oil and sprinkle with salt. Cover the dishes with foil and bake in the oven until beetroots are tender, approximately 45-50 minutes.
Remove from the oven and cut into wedges. Place into separate bowls and season with salt. Set aside.
For the Toasted Walnuts, place walnuts onto a baking tray and toss in the oil and salt. Bake until well toasted and golden, approximately 4-5 minutes.
Remove from the oven and set aside to cool.
For the Balsamic Glaze, place the ingredients into a small saucepan and place over a medium heat. Stir until sugar has dissolved. Allow to simmer until reduced and syrupy, about 4-5 minutes. Remove from the heat and set aside to cool.
To assemble the salad, mix some minced shallot and chives with the darker coloured beetroots. Mix some shallot and the goat's cheese with the lighter coloured beetroots. Drizzle some Balsamic Glaze over the darker beetroots and toss through.
To serve, lightly toss the beetroots together and place into a large serving bowl. Top with the Toasted Walnuts, remaining shallot and chives and a drizzle of Balsamic Glaze.