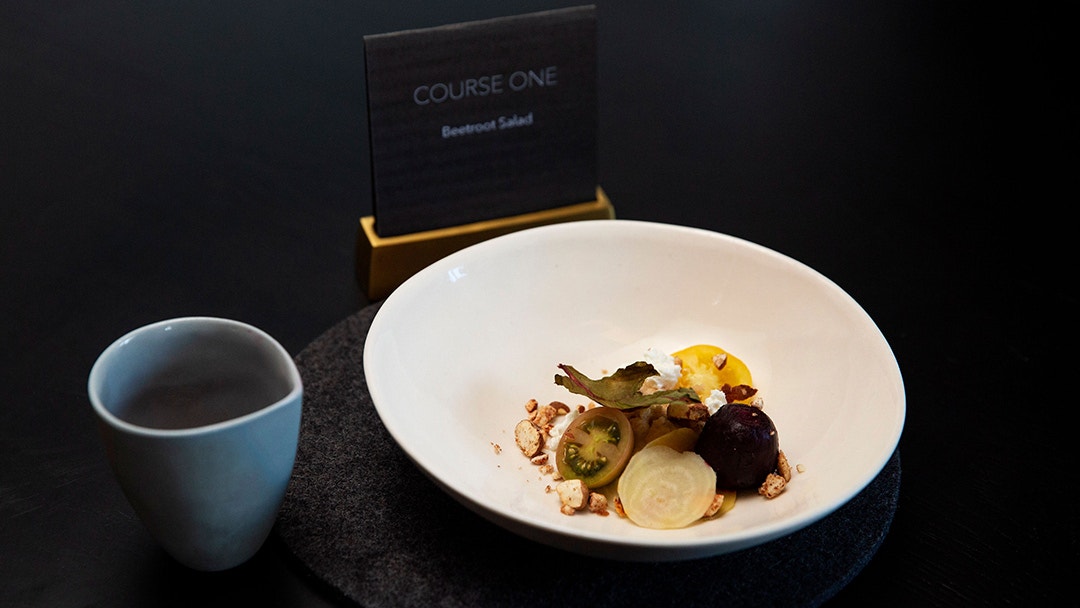 Steps
Preheat oven to 200C. Prepare a coal BBQ, hibachi or preheat a grill pan over medium high heat.
For the Pickled Beetroots, slice beetroots thinly using a mandolin and set aside.
Place the vinegar, sugar, gin, juniper berries, peppercorns and 250ml water into a small saucepan and bring to the boil.
Remove from the heat and pour into a medium bowl. Add the sliced beetroots and place in the fridge to pickle for 60 minutes.
Strain, reserving the pickling liquid, and discard the juniper and peppercorns.
For the Roasted Beetroot Puree, place the beetroot and thyme into small roasting dish. Add 30g butter and cook for 1 hour 10 minutes until tender. Turn beetroots regularly.
Remove from the oven and discard the skins.
Place the beetroot flesh into a small food processor. Add the cream and remaining 30g butter and puree until smooth.
Season with salt and add ginger to taste. Set aside.
For the Whole Roasted Beetroots, place beetroots into a roasting dish and drizzle with oil and season.
Roast the beetroots directly over hot coals or on grill pan for 15 minutes, turning every 2 minutes, until charred.
Return beetroots to the roasting tray and cover with foil. Bake until tender, about 35 minutes. Remove from the oven.
Discard the skins and set the beetroots aside.
Reduce the oven temperature to 180C.
For the Roasted Beetroot Leaves, combine the salt and native thyme leaves in a food processor and process until thyme is very finely chopped.
Arrange the beetroot leaves on a baking tray and sprinkle with thyme salt.
Bake the leaves in the oven, until lightly browned and dry to the touch, about 10 minutes. Turn hallway through cooking time. Remove from the oven and set aside to cool.
For the Beetroot Dressing, place the beetroot juice into a small saucepan over medium heat. Simmer until reduced by half.
Add the pickling liquid, ginger and vinegar, to taste. Remove from the heat and set aside.
To serve, spoon the Roasted Beetroot Puree into the centre of each bowl. Add Pickled Beetroot slices, tomatoes, a Whole Roasted Beetroot and some goat's cheese. Scatter with roasted sandalwood and Roasted Beetroot Leaves and serve with the Beetroot Dressing on the side.