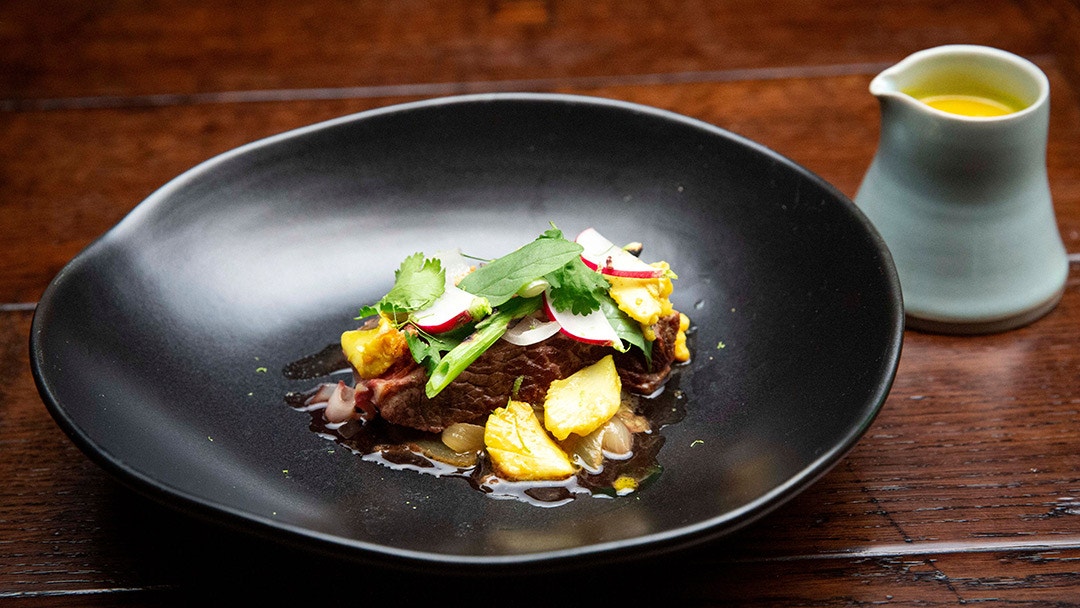 Steps
Preheat oven to 180C.
For the Crab and Curry Sauce, place the shrimp paste onto a small sheet foil and wrap to enclose. Bake in the oven until toasted and fragrant, about 5 minutes. Remove from the oven.
Place the shallots, chillies, lime leaves, ginger, turmeric, toasted shrimp paste and oil into a food processor and process to a smooth paste.
Place a wok over medium high heat and when hot, add the paste and cook, stirring regularly until fragrant and lightly caramelised. Add 500ml water and bring to the boil. Season with fish sauce, palm sugar and tamarind.
Reduce the heat and simmer until reduced by half. Add the butter, a little at a time and whisk until emulsified. Add the coconut cream, stir through and pass through a fine sieve into a medium saucepan. Return to a simmer.
Add the crab meat and simmer until just cooked through. Remove the crab from the broth and set aside. Continue to reduce the broth until thickened then transfer to a blender and process until smooth. Pass through a sieve and set aside.
For the Brown Onions, place a medium frypan over low heat. Add the ingredients and cook, stirring, until soft and caramelised.
For the White Onions, bring a small saucepan with 300ml water and 30g palm sugar to the boil.
Add the onion pieces and blanch for 5 seconds. Remove the water and set aside. Refill saucepan with palm sugar and water, boil and blanch the onion a further 2 times. Drain well and set aside.
For the Rib Eye, place a large oven-safe frypan over medium high heat. Season the beef and cook in the pan until well browned on both sides. Transfer to the oven and cook until the internal temperature reaches 54C, about 25 minutes. Remove from the pan and transfer to a clean chopping board to rest for 7-10 minutes. Slice into 4 portions to serve.
For the Charred Spring Onion, place a grill pan over high heat. Add the spring onions and cook until charred and tender. Remove from the pan and set aside.
To serve, spoon some Brown Onions onto each serving plate. Top with slices of Rib Eye, some crab meat and White Onion. Garnish with Charred Spring Onion, radish, coriander, lime leaves, fried shallots and lime zest. Serve with the Crab and Onion Curry Sauce on the side.