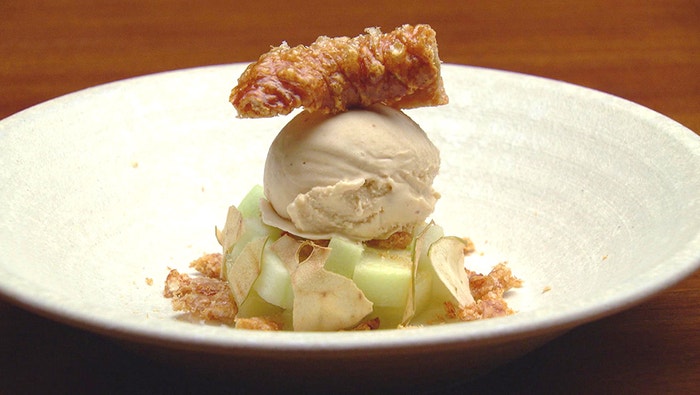 Steps
Preheat oven to 170C. Pre-chill an ice cream machine.
For the Proscuitto and Maple Syrup Ice Cream, place prosciutto on a paper lined baking tray and brush with maple syrup. Place in oven and to cook until crispy, about 9 - 12 minutes. Remove from oven, allow to cool.
Increase oven to 230C.
Transfer to a food processor and process until finely chopped. Transfer to a medium saucepan, add cream and milk, place on medium heat and bring to a simmer.
Meanwhile, place egg, egg yolk and sugar into the bowl of a stand mixer fitted with a whisk attachment and whisk until pale. While whisking, slowly add hot cream mixture and whisk until combined.
Return to saucepan and stir over medium low heat until mixture thickens and reaches 82C. Strain mixture into a medium bowl and cool over an ice bath.
Pour ice cream mixture into the ice cream machine and churn according to the manufacturers instructions. Set aside, in freezer, to set until serving.
For the Pork Crackling, score the pork skin and rub liberally with salt. Place onto a small baking tray and place in oven to cook until crispy and crackled, about 55-60 minutes. Remove from oven
Using a serrated knife, trim then cut into four even pieces. Break trimmings into small crumbs. Set aside until serving.
Decrease oven temperature to 110C.
For the Apple Chips, using a mandolin, shave apples thinly.
Place apple slices onto a wire rack and place in oven to bake until dry for 30-35 minutes. Remove oven and set aside to cool. When cool, break into shards.
For the Stewed Apples, place all ingredients and 4 tablespoons water in a small saucepan. Cover and set over medium low heat. Bring to a simmer and cook until apples soften, about 15 minutes. Remove from heat and set aside until serving.
For the Fresh Apple, place apple and lemon juice in a small bowl and toss to combine. Set aside until serving.
To serve, place a 10cm ring cutter into the centre of one serving bowl. Place a layer of Stewed Apples into the ring cutter, then a layer of Fresh Apples then remove the cutter. Repeat in remaining 3 bowls.
Add shards of Apple Chips and scatter some crumbed Pork Crackling. Top with a scoop of Prosciutto and Maple Syrup Ice Cream and finish with a piece of Pork Crackling.