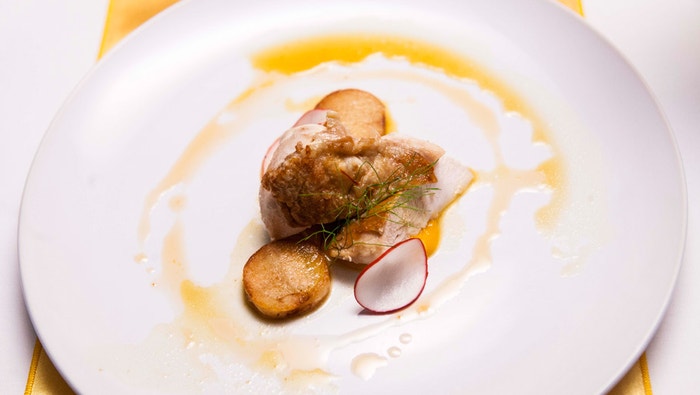 Steps
Heat oven to 220C.
For the Saffron Jus, place chicken bones and oil into a baking dish and place on the stove top over high heat. Cook until dark and caramelised. Add herbs then deglaze with Madeira. Reduce heat and simmer for 5 mins, or until reduced by half.
Add stock and saffron and continue to simmer until reduced by half again. Strain through a fine sieve, discarding the solids.
Place the strained jus into a clean frypan and place over a low heat. When jus is warm, then whisk in butter, a piece at a time until melted and combined. Add lemon juice and salt, to taste and set aside, keeping warm until needed.
For the Pumpkin Purée, combine all ingredients, except for xanthan gum, in a large saucepan set over medium heat. Cook for 12-15 minutes until soft.
Transfer pumpkin mixture to a food processor and process for 30 seconds, then add xanthan gum and process on high speed until smooth and thick. Season to taste. Set aside until needed.
For the Scallop Potatoes, slice potatoes length ways to 2cm thick slices. Use a 4cm round cutter to cut rounds from each slice. Lay slices in neat layers on a lightly greased baking tray. Sprinkle over the herbs and drizzle over the oil. Season to taste and bake for 35-40 minutes until golden.
Once cooked, remove Scallop Potatoes from oven and brush with butter and set aside until needed.
For the chorizo oil, remove skin from chorizo and pulse in sausage filling in the bowl of a small food processor to break up. Place sausage filling in a medium fry pan with the olive oil and cook over low heat until aromatic and the olive oil has coloured. Add lemon juice and season to taste. Strain and set oil aside until needed.
For the Pickled Radishes, combine vinegar, sugar and salt in small bowl and stir to dissolve sugar. Use a mandolin to thinly slice radishes, about 1mm thick and place into the pickling liquid. Set aside for 15 minutes to pickle.
Reduce oven to 200C.
For the Roast Chicken, place a large, oven-proof fry pan over medium heat. Drizzle chicken with oil and season skin with salt. Place chicken into hot fry pan and cook, skin side down, for 4 minutes, or until golden. Turn chicken breasts and cook for 1 minute. Turn chicken skin side up then place in oven for 6-8 minutes until cooked through.
Once cooked through, remove chicken from pan and set aside to rest. Once rested, slice each chicken breast in half and set aside, keeping warm until needed.
To serve, place 2 spoonsful of Pumpkin Purée onto each serving plate. Add 4 Scallop Potato slices to each plate. Remove the Pickled Radish from the pickling liquid and drain well. Place 3 slices of Pickled Radish on each plate. Place a half chicken breast on the centre of each plate and spoon Saffron Jus around plate. Garnish with fennel fronds.