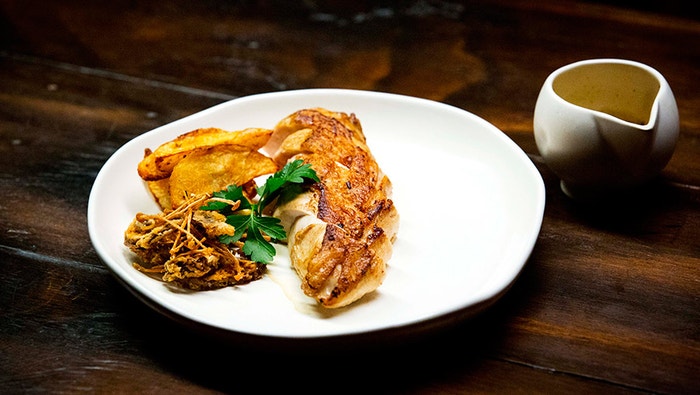 Steps
Preheat oven to 180C.
To make the Chips, place a large saucepan of water over high heat and bring to the boil. Peel potatoes and cut into wedges, transfer to saucepan and boil for 10 minutes. Remove potatoes and drain off excess water.
Meanwhile, combine oil, paprika and vegetable stock powder in a bowl. Add potatoes and toss to coat. Transfer to a baking tray and place into the oven cook for 25 mins then turn potatoes over and cook for a further 25min until golden and crisp, Set aside
To make the Mushroom Sauce, heat 1tbsp oil and butter in a large saucepan. Add enoki stems, brown mushrooms, parsley, chicken wings and cook until golden . Add vegetable stock powder flour and stir to cook flour out. Stir in 500ml of water and bring to the boil, then reduce heat and simmer until reduced by 1/3, about 4-5 minutes. Strain and transfer to a serving jug, set aside keeping warm.
To cook the Roast Chicken, heat 2tbsp oil in a large frypan over medium heat. Season chicken and place into hot pan, skin side down, and cook for 3 minutes until skin is golden brown. Add butter to pan and continue to cook sealing all sides about 3 minutes. Transfer chicken to a roasting pan, skin side up, and roast in oven for 10-12 minutes, until golden and cooked through. Remove and set aside to rest.
To make the Crispy Mushrooms, heat vegetable oil in a medium saucepan. Meanwhile, combine flour, paprika, salt and pepper in a bowl. Place lightly beaten eggs in a separate bowl. Dip brown mushroom pieces into egg, then coat with flour mix, remove any excess flour and set aside on a tray to dry slightly. Fry, in batches, until golden brown, about 2-3 minutes. Remove from oil and drain on paper towel.
Place enoki into oil and fry until crisp, about 1-2 minutes. Remove from oil and drain on paper towel. Season then combine mushrooms in a bowl and set aside.
To serve, slice chicken breasts and place onto plates. Add some chips, crispy mushrooms and garnish with parsley leaves. Serve warm sauce in jug on the side.