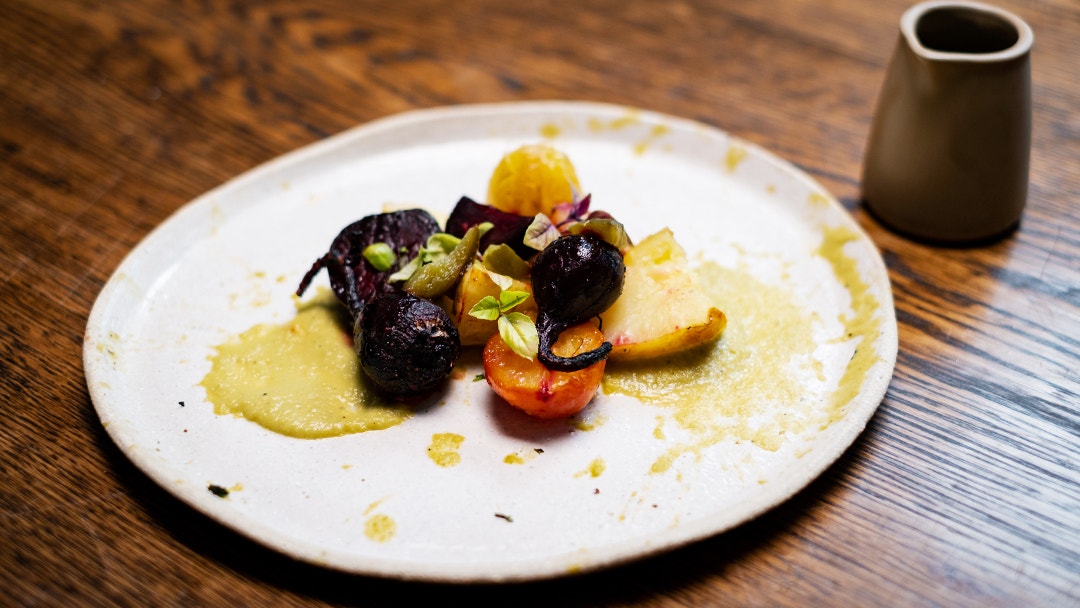 Steps
Preheat the oven to 180°C.
For the Salt Baked Beetroot, combine the flour and salt in a mixing bowl and slowly add water until a soft dough forms. Knead until smooth. Divide the dough in half and roll each portion out onto a sheet of baking paper until approximately 1.5cm thick.
Evenly space the beetroots on the dough. Trim the dough around each beetroot to a size large enough that the round of dough can wrap around and enclose the beetroots completely. Pinch any open edges to ensure that beetroot juices can't escape during cooking.
Bake the wrapped beetroots for 1 hour, then set aside to cool to room temperature.
Gently break the salt crust open and remove the beetroots. Cut each beetroot into wedges just before serving.
For the Roast Potato, place each potato onto a square of foil and drizzle with olive oil and season with salt and pepper. Wrap potatoes tightly in foil and bake in the oven until tender, about 30 minutes.
Remove the foil and bake until skins are browned and crisp, a further 10-15 minutes.
For the Roasted Pepper Sauce, place the capsicum directly onto an open flame on the highest setting, or on a rack over a very hot coal grill. Use tongs to turn regularly until skin is charred all over.
Transfer to a heatproof bowl and cover with a plate. Set aside to steam for 5 minutes. Discard the skin, stem and seeds.
Transfer the flesh to a blender with 1-2 tablespoon water and blend to the consistency of thickened cream. Add vinegar, salt and pepper to taste.
For the Green Herb Sauce, blanch the green herbs for 10 seconds in boiling water, and immediately transfer the leaves to an ice bath. Drain well and gently squeeze dry with several layers of paper towel.
Place herbs into a blender and process while slowly adding the oil in a thin stream. Add vinegar and salt to taste and blend until the sauce is smooth. The sauce should taste fresh and bright, without being sour or salty. Strain through a fine mesh sieve and set aside in the fridge.
To serve, place 2-3 dollops of roasted pepper sauce on each plate. Arrange the beetroots and roasted potato in the centre of each plate and drizzle the green herb sauce around the veggies. Garnish with fresh micro basil leaves. Sprinkle a little flaked salt over the entire dish for extra crunch and seasoning.