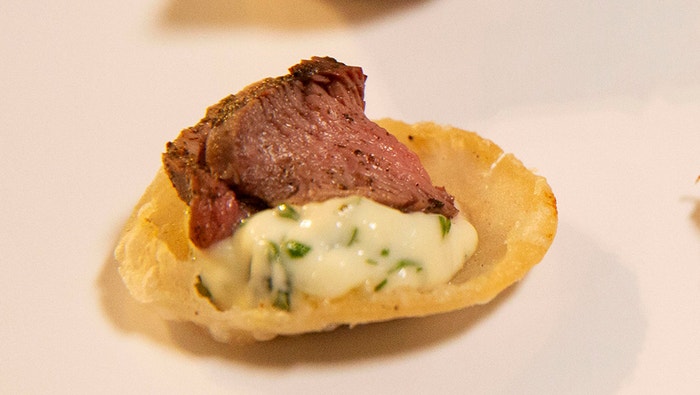 Steps
For the Fried Cracker, place flour, pepperberry, salt and 70ml water in a medium bowl and mix until combined. Transfer to a clean, lightly floured bench and knead until dough is soft and smooth, about 5 minutes. Wrap in cling film and rest in the fridge for 30 minutes.
Remove dough from fridge and pass through a pasta machine beginning with thickest setting then passing through another 4 settings. Lay dough onto a clean, lightly floured bench. Using a 5cm round cutter, cut 30 circles from the dough then prick each round with a fork.
Place oil in a saucepan and heat to 180C. Working in batches, fry pasta rounds in the oil until golden, about 5 minutes. Remove from oil and drain on kitchen paper. Set aside, to cool, until serving.
For the River Mint Labneh, place yoghurt, salt and river mint in a bowl and stir to combine. Transfer to a muslin lined sieve, wrap the yoghurt in the muslin and place sieve over a bowl. Place a heavy bowl on top of the yoghurt and set aside, in fridge, to drain. Once all the liquid has drained from the yoghurt, transfer solids to a pipping bag. Set aside, in fridge until needed.
For the River Mint Lamb, combine cumin, coriander seeds, peppercorns, river mint and salt in a spice grinder and grind to a fine powder. Transfer to a bowl, add lamb and toss to coat lamb liberally with spice mix.
Heat a frypan over high heat and add oil. Add lamb and cook for 2 -3 minutes per side. Remove from heat and set lamb aside to rest for 10 minutes. Slice thinly and set aside until serving.
To serve, pipe River Mint Labneh onto Fried Cracker and top with a slice of River Mint Lamb.