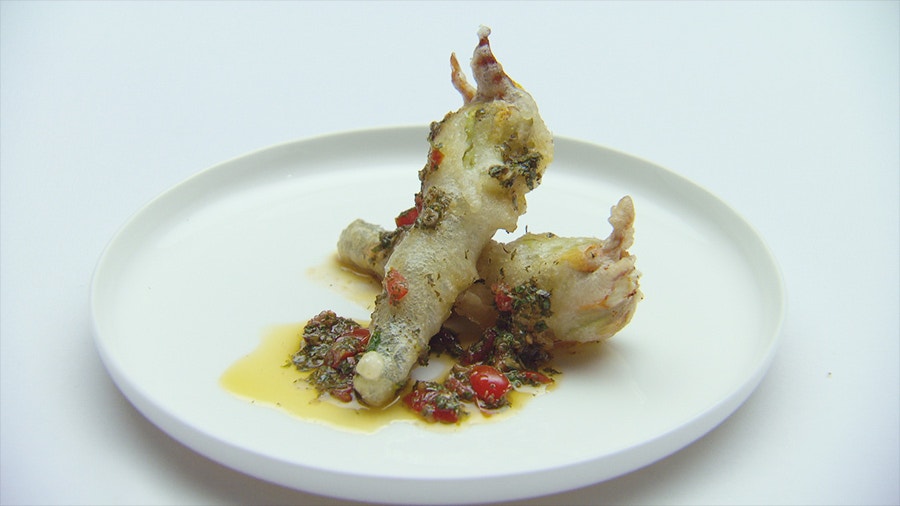 Ingredients
Ricotta Stuffed Zucchini Flowers
Steps
Heat the oil in a deep fryer to 180C.
For the Sicilian Sauce, bring a small saucepan of water to the boil. Score the base of the tomato in a cross pattern. Blanch the tomato in the boiling water for 20 seconds then remove from the water and place into a bowl of cold water. Peel and discard the skin. Finely chop the flesh and place into a medium bowl.
Add the remaining ingredients and mix to combine. Season with salt and set aside at room temperature.
For the Ricotta Stuffed Zucchini Flowers, remove the stamens from inside the flowers and discard. Set aside.
Place the ricotta into a bowl and mix with a spatula until smooth.
Add the remaining ingredients, except for flour and soda water. Season with salt and pepper and mix well to combine. Transfer the mixture to a piping bag.
Fill the zucchini flowers with the ricotta filling until about half full. Fold the petals over to enclose the filling. Set aside in the fridge.
For the batter, whisk the flour, soda water and a pinch of salt together to form a thin batter.
Dip the filled zucchini flowers into the batter, allow the excess batter to drain then place into the hot oil and cook, in batches, until golden and crispy, about 6 minutes. Remove from the oil and drain on kitchen paper. Season lightly with salt.
To serve, place 2 Ricotta Stuffed Zucchini Flowers onto each serving plate and drizzle with the Sicilian Sauce.