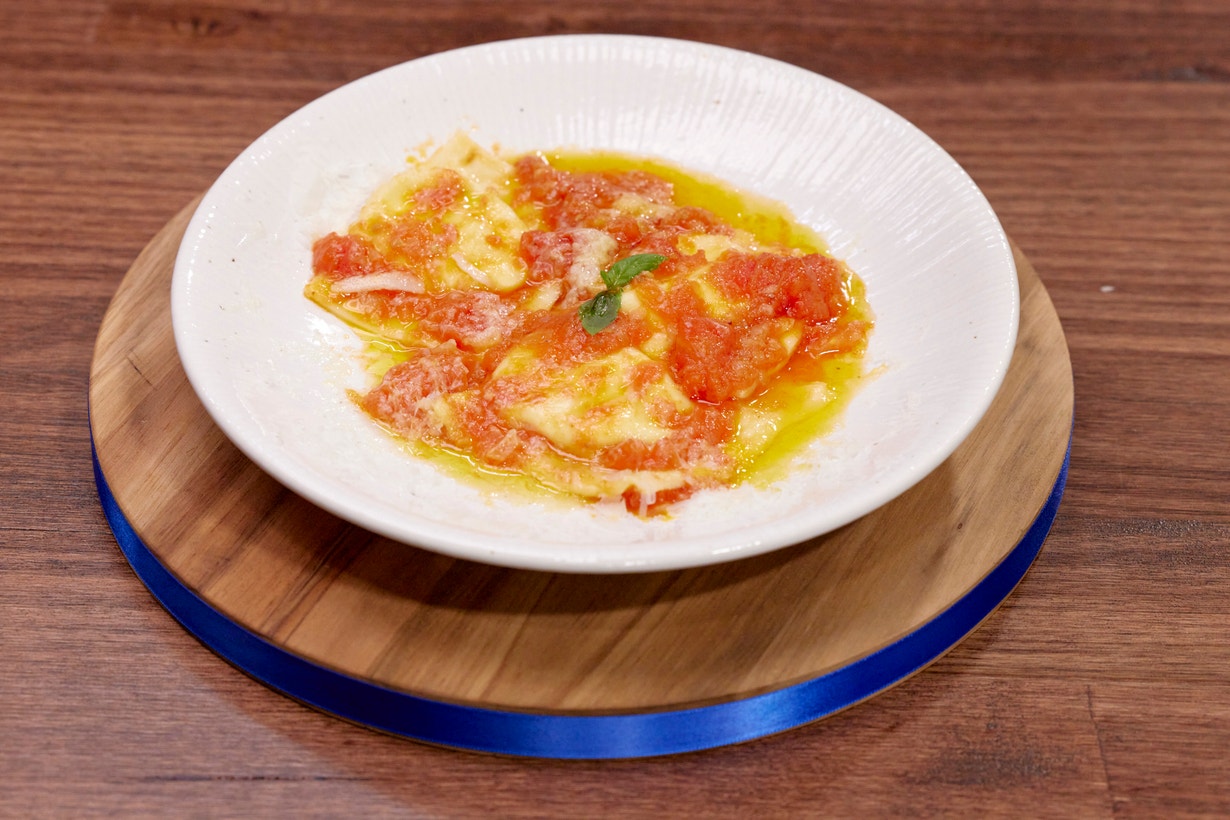 Steps
Bring a large saucepan of salted water on the boil.
For the Pasta, place ingredients, except 1 egg, into the bowl of a stand mixer fitted with the hook attachment. Mix the dough on medium speed. If needed, add 10-15ml water, stop the mixer and use your hands to bring the dough together. Once the dough is bound, put it back into the mixer so that it may continue kneading until glossy and smooth, about 5-7 minutes.
Cut the dough into two portions and squeeze each into a flat disc. Wrap each disc in cling film and rest in the fridge for at least 20 minutes.
For the Ricotta, line a large sieve with several layers of muslin cloth and place over a deep bowl. Pour the milk, 200ml cream and vinegar into a large saucepan and heat gently until the mixture is almost beginning to bubble. Agitate the pot gently until mixture starts to separate then remove from the heat. Set aside to allow curds to form. After 5-8 minutes, carefully pour the mixture into the prepared sieve. Set aside to drain and cool in the fridge.
When cool, remove the ricotta from the cloth and place into a bowl. Add the pecorino, the remaining 60ml cream and season with salt and pepper. Stir well to combine then set aside.
For the Fresh Tomato Sauce, cut crosses into the bases of the tomatoes and blanch them briefly in boiling water. Remove the skins and seeds of the tomatoes, then squeeze them into a pulp into a bowl.
Heat the olive oil in a frypan over medium heat. Add the onions and season with a little salt. Add the garlic and basil sprigs. When the onions are translucent and soft, add the tomato pulp. Cook for 15-20 minutes. If the sauce reduces too far, add a little boiling water to loosen. Season to taste. Discard the large pieces of garlic. Remove from heat and cover to keep warm.
To assemble the ravioli, roll the dough through a pasta machine until thin enough to see your hand through. Lay the sheets out onto a lightly floured work surface. Spoon a tablespoon of ricotta filling every 3-4 cm along the length of your sheet of pasta to make 20 ravioli.
Beat the remaining egg with a little water and lightly brush around each portion of filling. Fold the dough to cover the filling, pressing out the air as you go. Cut into large squares with a ravioli cutter.
Cook the ravioli in the boiling water for 3-4 minutes, until al dente. In the meantime, return the pan of sauce to a low heat. Remove the ravioli from the water and cook in the sauce for an additional 30 seconds to 1 minute.
To serve, divide ravioli between bowl and spoon sauce over the top. Finish with pecorino, olive oil and a sprig of basil.