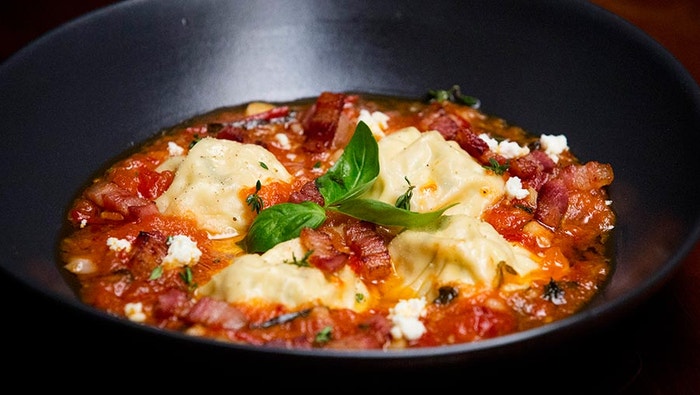 Steps
Preheat oven to 180C.
For the Tomato Sauce, wrap garlic in foil and roast for 30 minutes in the pre-heated oven until very soft.
Remove garlic cloves from oven. Squeeze 3 of the cloves into a medium saucepan, reserving the last clove for the Pork and Ricotta Filling. Add the tomatoes, basil, thyme, verjuice, sugar, salt and pepper and simmer, over medium heat, for 20-25 minutes, or until slightly reduced and thickened. Season to taste and set aside, keeping warm until needed.
Place a small frypan over medium high heat and add oil and pancetta. Cook pancetta for 5 minutes, or until crisp. When crisp, remove the pancetta from the pan and set aside on kitchen paper to drain until required.
For the Pasta Dough, combine all ingredients, along with approximately 2 tablespoons of water in a food processor and blitz until mixture resembles wet sand. Turn the mixture onto a floured work surface and knead until a smooth dough forms, about 2 minutes. Wrap in cling film and set aside to rest.
For the Ricotta and Pork Filling, heat 20ml oil in a medium frypan over medium high heat. Add pork and season with salt and pepper to taste. Fry until mince is browned, stirring frequently to break up mince.
Deglaze the pan with the verjuice, remove pan from heat and allow to cool slightly.
Place pork mixture in a large bowl and add the ricotta, basil and the remaining clove of roasted garlic. Season with salt and pepper and mix well to combine. Set the filling mixture aside until needed.
Bring a large saucepan of salted water to the boil.
Meanwhile, laminate the pasta dough through pasta machine to the thinnest setting, then lay the sheets out onto floured bench.
Divide the Ricotta and Pork Filling in a line down the length of the dough, about 8-9cm apart. Brush around filling with a little water then lay another sheet of pasta over the top, pressing around the filling to seal the sheets of pasta and remove any air bubbles as you go.
Use an 8cm round cutter to cut ravioli rounds and press around edges to seal. Repeat until you have 16 ravioli rounds.
Cook ravioli in the boiling, salted water until ravioli float to surface. Remove with a slotted spoon and drain well. Place 4 ravioli onto each serving plate.
Place several spoonfuls of the tomato sauce around the ravioli in each plate. Scatter fried pancetta over the top of the ravioli. Garnish with small pieces of extra ricotta and chopped basil and thyme leaves.