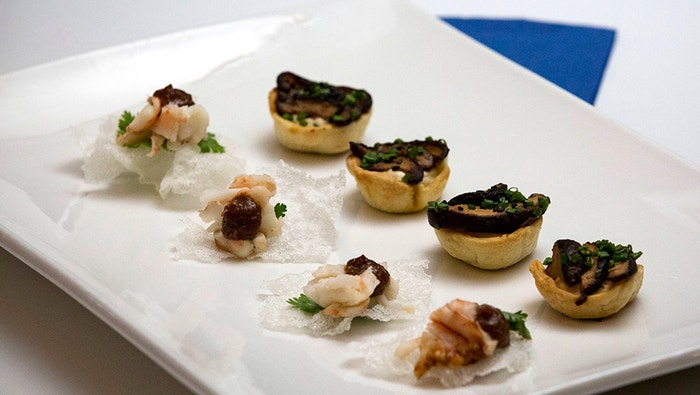 Steps
Preheat oven to 180C.
For the Poached Prawns, fill a medium saucepan with water and add salt. Place over medium heat and bring to a simmer. Add prawns and cook until opaque, about 2-3 minutes. Remove from water and place into iced water to cool. Remove prawns from water, dice into small pieces, and set aside on paper towel until serving.
For the Rice Paper Cracker, place enough oil in a medium frypan to cover a rice paper sheet and set over high heat. Heat oil to 180C. Add rice paper sheet and cook until opaque and puffed. Remove from oil and set aside on paper towel until serving.
For the Tamarind Sauce, place the dehydrated slices of apple a onto small tray and place in the oven, until golden, about 3 minutes. Remove from oven and transfer to a small food processor or spice grinder.
Place cayenne pepper, cumin, ground coriander, ground ginger, black peppercorns, and clove into a small frypan. Place over low heat and toast until fragrant, about 1 minute. Remove from heat and place into the food processor. Process apple and spices until fine.
Place spice mix, fresh coriander, tamarind puree, sugar, and salt into the canister of a stick blender and blend until smooth and thick. Transfer to a squeeze bottle, or piping bag, and set aside until serving.
To serve, break the puffed rice paper into 8 pieces and arrange on a serving plate. Place a coriander leaf on each cracker. Place some Poached Prawn on the top of the coriander leaf. Squeeze a generous dollop of Tamarind Sauce on each canapé and serve immediately.