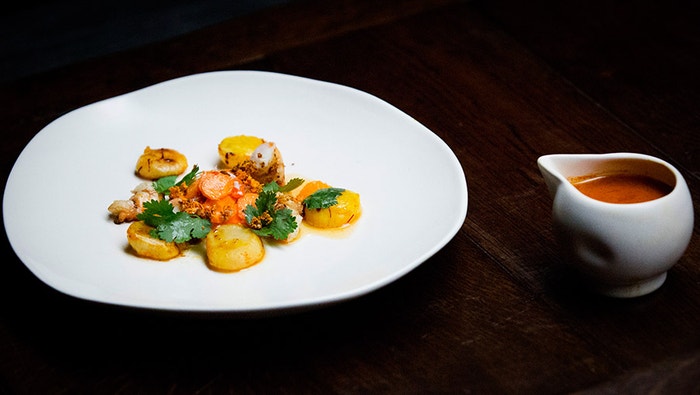 Steps
Preheat oven to 250C. Prepare a large bowl of iced water.
For the Broth, break down crabs and reserve legs for salad.
Clean and chop remaining crab and place into a roasting pan with prawn heads and shells. Roast for 15 - 20 minutes until deep golden. Remove pan from oven and place on stove top over high heat. Deglaze with wine then add carrot juice, orange juice and butter. Reduce heat and simmer for 5 minutes. Strain through a fine sieve into a clean saucepan, discarding solids. Set the Broth aside, keeping warm, until needed.
Reduce oven temperature to 180C.
For the Carrot Sand, grate ginger finely and place into a small bowl along with the reserved carrot pulp. Mix well to combine. Spread the mixture onto a baking tray lined with baking paper. Place in the oven to dehydrate for 15-20 minutes. When dry, remove from oven and crumble between fingertips to a sand-like consistency. Set aside until needed.
For the Scallops, place scallops, carrot juice, saffron and salt in a small bowl. Cover and place in fridge to marinate for for 30 minutes.
Meanwhile, prepare the Salad. Place a wire rack on the stove top over a medium flame. Char chilli, turning, until blackened. Scrape skin away with a small knife, slice in half and remove seeds. Chop flesh finely and place into a large bowl.
Bring a large saucepan of salted water to the boil. Add reserved crab legs and cook for 2 minutes or until colour changes to orange and white. Remove from water and refresh in the bowl of iced water.
Remove crab meat from legs and place in the bowl with the chilli. Add orange, lemon and grapefruit segments, carrots slices, oil, vinegar and salt and pepper to taste. Toss gently and set aside in fridge until needed.
For the Prawns, place a large fry pan over medium high heat. Add butter and sear prawns for 2 minutes on each side, until just cooked through. Season to taste and remove the prawns from the pan Slice prawns into thirds and set aside until needed.
To finish the Scallops, wipe out the frypan and add butter. Place over medium high heat and add the scallops. Sear scallops for 1 minute on each side or until a golden crust forms. Remove from heat and set aside until needed to serve.
To serve, place a small pile of the Salad into the centre of each serving plate. Place 5 Scallops over and around the Salad on each plate. Add 3 prawn pieces per plate. Sprinkle a little of the Carrot Sand over each plate. Garnish with mandarin segments and coriander leaves. Serve with warm broth on the side.