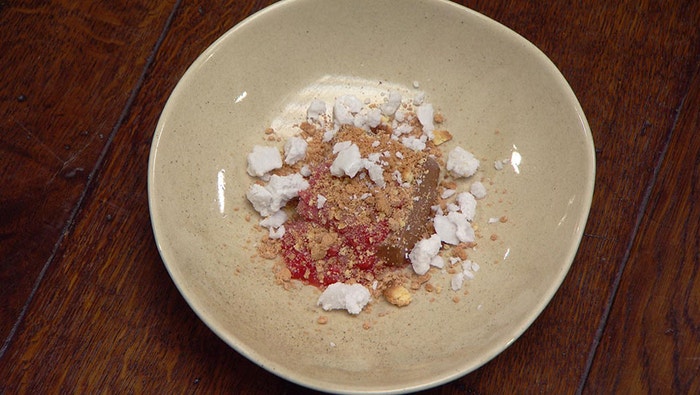 Steps
Preheat oven to 200C.
For the Coconut Snow, first make a sugar syrup. Place sugar and 200ml water in a small saucepan, set over medium heat and bring to a boil. Remove from heat and transfer 100ml of sugar syrup to another saucepan. Reserve remainder for Chocolate Mousse.
Place saucepan of sugar syrup on high heat and return to a boil. Remove from heat, add gelatine and stir until melted. Add coconut cream and whisk to combine. Pour into a medium sized siphon gun, and charge twice with cream chargers. Shake well then dispense mixture into a medium sized, deep baking tray. Set aside in freezer immediately, until serving.
For the Chocolate Mousse, place cream into a bowl and whisk to soft peaks then place into the fridge.
Place chocolate into a bowl then place on top of a saucepan of gently simmering water to melt. Once melted, turn off heat, keeping bowl of chocolate over hot water to remain melted.
Place 125ml of reserved sugar syrup into a saucepan and set over medium heat. Bring to a boil, reduce heat and allow to simmer until temperature of the sugar syrup reaches exactly 120C. Remove from heat, add gelatine and whisk to combine.
Meanwhile, place egg and egg yolks in the bowl of a stand mixer and whisk until combined. Slowly pour 120C sugar syrup into the egg mixture whilst whisking on a slow speed. Once fully combined, increase mixer speed and whisk until bowl is cool to touch and mixture has doubled in size.
Remove bowl from mixer, fold one third of melted chocolate into the egg mixture until even and smooth, then gently fold in remaining melted chocolate. Remove whipped cream from fridge and fold one third into the chocolate mixture. Gently fold in remaining cream then spoon into eight 5cm x 5cm x 5cm cube moulds. Place into the freezer until firm and ready to serve.
For the Coconut Dust, place coconut flakes onto a baking tray and place in the oven to bake, stirring halfway through, until evenly golden brown, about 3 minutes. Once browned remove from oven and cool to room temperature.
Once cooled place coconut in a spice grinder and grind to a powder. Set aside until serving.
For the Microwave Sponge Crumb, place eggs into a bowl and aerate with a whisk. Add flour and sugar and whisk until smooth. Pour this mixture into a siphon gun and charge the gun twice with cream chargers.
Using a small knife, poke holes along the bottom and sides of a paper cup. Expel sponge mixture into the paper cup about 2/3 full, then place into the microwave and cook on high for 1 minute. Allow sponge to cool to room temperature before removing from the paper cup. Repeat with remaining mixture.
Pull apart the cooked sponge into small pieces. Place pieces on a baking tray and in the oven to bake until golden brown. Remove from oven and allow to cool to room temperature.
Transfer sponge pieces to a spice grinder and roughly grind. Set aside until serving.
For the Strawberry Jam, place all ingredients and 10ml water in a blender and pulse until coarsely chopped. Transfer to a small saucepan and bring to a simmer over low heat. Continue cooking, constantly whisking, until sugar is dissolved and agar is hydrated, about 3 minutes. Transfer to a baking tray and cool in the fridge until ready to serve.
To serve, remove coconut snow from freezer and use a spoon to break the mixture apart. Place thin slices of strawberries onto base of serving plates. Place a cube of Chocolate Mousse on top, using a blow torch if necessary to release mousse from moulds. Spoon Fresh Strawberry Jam on top of mousse then sprinkle with Microwave Sponge Crumb, Coconut Dust and Coconut Snow.