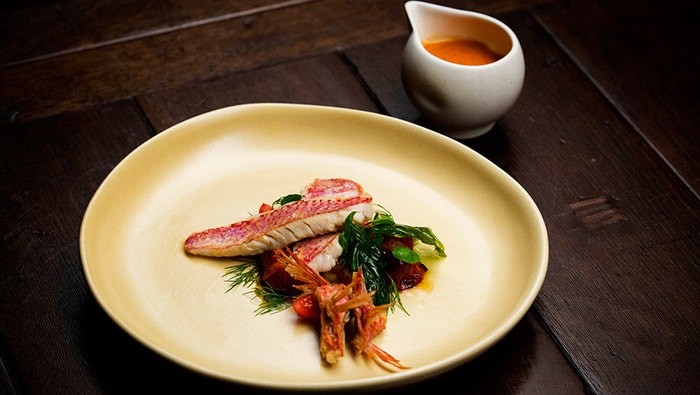 Steps
Heat oven to 250C.
For the Salad, place a wire rack over an open flame. Place eggplant, capsicums and chillies onto rack and cook until tender and charred. Remove from heat and refresh in iced water. Remove charred skin and dice flesh and set each aside in separate bowls, reserving half of the charred eggplant flesh for the Broth.
Place olive oil, vinegar, a pinch of sugar and salt in a small bowl and whisk to combine. Set aside until needed to dress the salad before serving
In a large bowl, place half char grilled eggplant, char grilled capsicums, char grilled chillies and grape tomatoes and toss well to combine. Set the Salad aside in the fridge until needed for serving.
For the Broth, first remove the fillets and wings from 4 of the red mullet and set aside in fridge until needed. Reserve all trimmings.
Chop the remaining 2 mullet plus the reserved heads, bones and trimmings into small pieces and place into a medium, flame-proof roasting pan. Drizzle with 2 tablespoons of the olive oil and roast for 20-25 minutes in the pre-heated oven until golden.
Remove from oven and place roasting pan on to the stovetop over a medium heat. Deglaze baking dish with 50ml of the vinegar and 50ml water. Reduce heat and simmer while scraping base of dish. Transfer contents of roasting pan to a large saucepan and add 3 litres of water. Set aside until needed.
Place truss cherry tomatoes onto a baking tray and drizzle with remaining 1 tablespoon of olive oil. Roast until tomatoes are beginning to collapse, about 20 minutes. Add half of the roasted tomatoes to the saucepan of fish stock. Reserve the remaining half, keeping warm, for plating.
Place the saucepan of fish stock on the stovetop over high heat. Add chopped fresh truss tomatoes, thyme, marjoram, bay leaf, half of roasted eggplant and salt and pepper to taste. Bring to the boil and boil until reduced by 3/4, about 40 - 50 minutes.
Strain the stock into a clean saucepan, discarding the solids. Place the broth over a high heat and bring to the boil. Once boiling, reduce heat slightly and simmer until reduced to approximately 300ml.
When reduced, whisk in butter, one cube at a time until butter melts and is emulsified. Season to taste with the remaining vinegar and salt and pepper. Simmer gently for a further 5 minutes then strain broth again through a fine sieve and transfer to a serving jug. Set aside, keeping warm until needed.
For the Fried Basil Leaves, heat 500ml of vegetable oil in a small saucepan to 180C.
Wash and thoroughly dry basil leaves. Drop leaves into the pre-heated oil and fry until crispy, about 30 seconds. Drain on kitchen paper and set aside until needed. Reserve deep frying oil for Red Mullet Wings.
For the Red Mullet Wings, take reserved mullet fillets out of the fridge and carefully remove the wings without damaging the fillets. Return fillets to the fridge until needed.
Bring the deep frying oil, reserved from the Fried Basil Leaves, back to 180C.
Place the flour and salt and pepper to taste in a medium bowl and mix well to combine. Dust the red mullet wings in seasoned flour, shake off excess and deep fry in the pre-heated oil until crisp and golden, about 1 – 2 minutes. Drain on kitchen paper and set aside until needed.
For the Red Mullet Fillets, place a large non-stick frypan on the stove top over medium high heat. Remove reserved mullet fillets from the fridge and pat dry. Rub the oil into the skin of mullet fillets, season with salt to taste and cook, skin side down for 2 - 3 minutes, or until flesh is 75% opaque. Turn the fillets over and cook for a further 30 seconds on the flesh side to seal the fish. Remove the fillets from the heat and set aside, keeping warm, until needed to serve.
Just before serving, remove Salad from the fridge and strain to remove excess liquid. Whisk the salad dressing and add to the salad. Toss well to combine.
To serve, divide the reserved roasted truss cherry tomatoes between 4 serving plates. Add a mound of the dressed Salad to each plate. Place 2 Red Mullet Fillets on top of the salad. Add 2 Red Mullet Wings and 4 Fried Basil Leaves to each plate. Garnish with fresh dill sprigs.