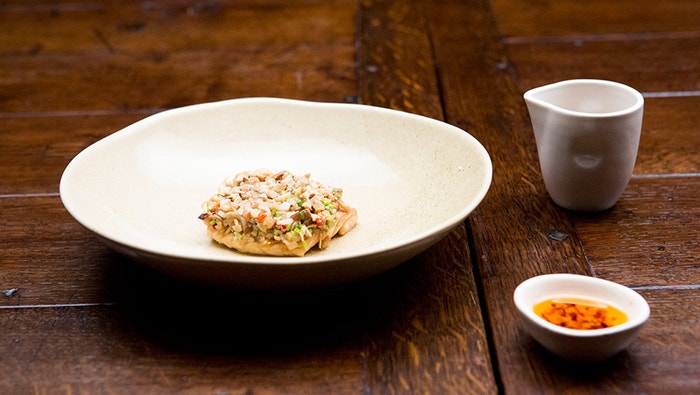 Steps
For the Mushroom and Chicken Broth, place dried mushrooms and 1.2L water in a medium saucepan and bring to a boil over high heat. Reduce heat and allow to simmer gently for 20 minutes. Remove from heat and strain through a fine sieve into a small saucepan and keep hot.
Meanwhile, place a large saucepan over a medium high heat. Add chicken bones and cook until browned, about 10 minutes. Add shallots, carrot, celery and ginger and cook until soft, about 2-4 minutes. Deglaze pan with hot mushroom stock. Add soy sauce, shaoxing wine, sesame oil and lime juice and peel and simmer for 15 minutes. Remove from heat, strain broth into a medium saucepan and set aside to poach fish.
For the Prawn and Chilli Oil, place chilli flakes and sesame seeds in a heatproof bowl.
Place prawn heads and shells and grapeseed oil in a small saucepan and set over medium heat. Heat oil to a simmer and allow to simmer, so prawns are frying, for 5 minutes then remove from heat.
Strain through a fine sieve into a clean saucepan. Place over medium heat, add garlic and fry until golden. Remove from heat and pour over the chilli flakes and sesame seeds. Add salt, stir through and set aside to infuse for 20 minutes.
Strain and reserve 2 teaspoons for the Mushroom Crust. Divide remaining into 4 small serving ramekins and set aside for serving.
For the Mushroom Crusted Red Emperor, place grapeseed oil in a medium frypan and set over medium heat. Add shallots, mushrooms and spring onions and fry until mushrooms soften, about 5 minutes. Add dark soy, salt and sesame oil and cook for a further 3 minutes. Remove from heat and transfer to a bowl. Add remaining ingredients, except fish, and mix well. Season with salt and set aside.
Heat Mushroom and Chicken Broth to 75C. Place red emperor fillets into broth and poach until just cooked through, about 7-10 minutes. Remove from heat. Remove fish from broth, reserving broth, and place onto a flat baking tray or plate. Strain broth into a serving jug.
Cover each fillet with mushroom mixture, ensuring surface is entirely coated.
To serve, place a fillet of Mushroom Crusted Red Emperor into the centre of each serving bowl. Serve with a ramekin of Prawn and Chilli Oil and serve with Mushroom and Chicken Broth on the side.