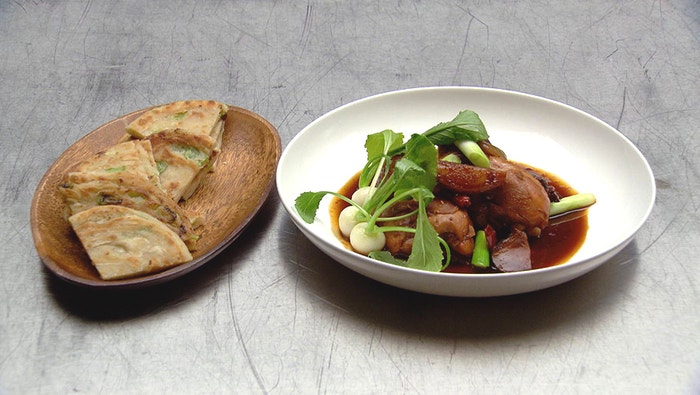 Steps
For the Chicken Braised in Master Stock, drain the mushrooms, reserving the strained soaking liquid. Remove the woody stalks from the mushrooms and discard.
Heat a heavy based saucepan or enamelled cast-iron casserole over high heat and add the peanut oil. Add the chicken in batches and cook until browned on all sides and nicely caramelised.
Reduce the heat to low and discard any excess oil. Add the chilli sauce and cook for 1 minute. Add the ginger, garlic, Sichuan pepper, chilli, rock sugar, soy sauces, rice wine, citrus peel, cinnamon and star anise. Bring the mixture to the boil over high heat. Once boiling, reduce heat to low, add the mushrooms, reserved soaking liquid, daikon and onion and simmer for 5 minutes.
Return the chicken pieces to the saucepan and stir to coat with the sauce. Cover with a lid and simmer chicken in the sauce until cooked through, about 20 – 30 minutes.
For the Green Onion Pancake, place the flour into a large bowl, add the salt and stir to combine. Make a well in the centre and add the hot and cold water. Mix well to form a dough.
Transfer the dough to a lightly floured work surface and knead until the dough is smooth and elastic. Divide the dough into 12 equal portions and set aside until needed, covered with a tea towel.
Trim the green tops from the spring onions and reserve until needed. Place the garlic, the white end of the spring onions, olive oil and sea salt into a large mortar and pestle and pound to a coarse paste. Set aside until needed.
Slice the green ends of the spring onions very finely on the diagonal and set aside in a bowl until needed.
To make a pancake, lightly floured work bench, roll a ball of dough into a rough square. Spread a little of the garlic and spring onion paste over the dough and lightly sprinkle with green spring onion slices.
Starting at one end, roll the dough up into a log shape. Then roll the log into a spiral. Using the rolling pin, roll the spiral out flat. Repeat with the remaining dough and spring onion filling
Heat a little of the canola oil in a heavy based frypan. Once hot, fry each pancake until golden, then flip and fry the other side until golden, about 2 minutes each side.
To finish the Chicken Braised in Master Stock, just before serving, add the sesame oil and spring onions and stir to combine
To serve, place 2 - 3 pieces of chicken into each serving bowl and spoon over some of the master stock. Garnish with chilli slices and coriander leaves. Serve with warm Spring Onion Pancakes.