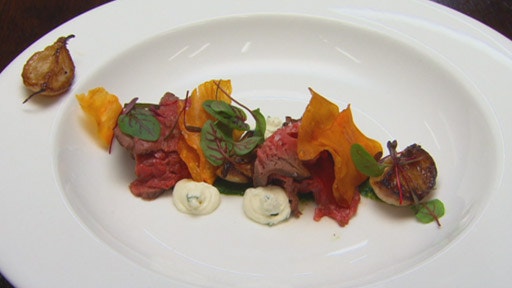 Ingredients
Spinach and parsley puree
Steps
For stock, heat oil in a large stockpot over high and add bones in batches, turning until brown and caramelised. Remove to a plate and repeat with remaining bones. Add veal trimmings and cook, turning until browned, remove to plate with the bones. Reduce heat to medium and add onions, carrots and garlic.
Deglaze the pan with red wine and return bones and trimmings to pan. Add bay leaf, peppercorns and thyme and simmer until wine is reduced by two-thirds. Add beef and veal stock and tomatoes and simmer for 1 hour, skimming the surface as required. Strain, reserving liquid, and pass stock through muslin to remove excess impurities.
For beef, heat a large saucepan of water to 65°C. Trim beef fillet of any sinew and place in a vacuum seal bag and add 300-400ml of the strained stock. Remove air and seal. Place beef in the saucepan and cook at 65°C for 40 minutes. Remove bag from water and rest in bag for 10 minutes. Gently remove the fillet from the bag and pat dry with paper towel or a clean tea towel.
Heat butter and oil in a heavy-based frying pan until the butter begins to foam. Add the fillet and sear for 3 minutes on all sides. Remove, rest for 5 minutes and slice thinly.
For horseradish cream, mix crème fraiche with grated horseradish in a bowl. Add finely chopped chives and salt to taste. Whisk until the crème begins to firm, then place in piping bags for service.
For sweet potato crisps, trim sweet potatoes to roughly 10cm-long block shapes and thinly slice on a mandolin. Lightly salt potatoes and leave to drain on paper towel for 20 minutes. Fry in vegetable oil at 160°C, in batches until crisp. Season and set aside.
For caramelised turnips, heat butter and oil in a wide frying pan and add turnips, garlic and thyme. Cook gently until golden and caramelised, keep warm for service.
For puree, bring a saucepan of salted water to the boil and blanch spinach for 2 minutes. Remove with a slotted spoon to a bowl of iced water to refresh, drain and reserve. Repeat with the parsley, reserving a little cooking water. Place drained spinach and parsley with a little cooking water in a thermomix or blender and process on high for 30 seconds, adding additional cooking water if required until smooth.
Melt butter and cook until nut brown. Whisk through puree with salt to taste. Pass through a sieve if a smoother result is desired.
To serve, place a smear of the puree on the bottom of the plate. Place 3 turnip quarters along the smear and mound thin slices of beef between the turnips. Finish with large piped dots of horseradish cream and top with sweet potato chips and baby radish and sorrel leaves.
Notes
Preparation: 15 minutes Cooking: 1 hour 30 minutes