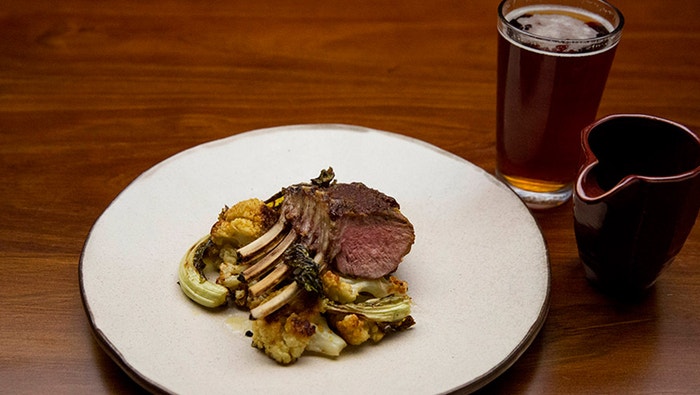 Steps
Preheat oven to 190C.
For the Roasted Cauliflower, place the cauliflower and 2 tablespoons water in a medium glass bowl and microwave until nearly tender, about 6 minutes on high. Remove from microwave and divide into florets
Place florets in a baking dish with olive oil, butter, and salt and place in the oven to roast until golden, about 15 minutes. Remove from oven and add the cauliflower leaves making sure they are coated in olive oil and butter. Season with a little extra salt and return to oven to roast until leaves are crispy, about another 5 minutes. Remove from oven and set aside, keeping warm, until needed.
For the Mustard Crumb, increase oven to 200C. Place all ingredients into a bowl and mix well. Spread onto a silpat lined baking tray and place in the oven to bake until golden, about 8-10 minutes. Remove from oven and sprinkle over cauliflower florets and leaves. Set aside, keeping warm until serving.
For the Lamb Rack, place an oven proof frypan over high heat. Rub the racks with olive oil and salt and sear in the hot pan, fat side down until well browned. Transfer to the oven and cook to your liking, about 8-10 minutes for medium-rare.
Remove from oven. Lightly brush with mustard and rest, loosely covered, keeping warm, until serving.
For the Scallop and Lamb Jus, place a heavy based frypan over high heat. Add lamb bones and reserved lamb trimmings and fat and sear until golden brown. Add scallops and continue searing until scallops have browned. Add beer and sugar and reduce by half. Add 1 cup of water and continue cooking until the liquid has reduced and is darker in colour, about 6 minutes.
Strain into a small saucepan, add butter and season with salt to balance any bitterness from the beer. Set aside, covered, to keep warm until serving.
To serve, carve Lamb Rack into cutlets and divide between serving plates. Add Roasted Cauliflower and Cauliflower Leaves. Transfer Scallop and Lamb Jus to a serving jug and serve on the side.