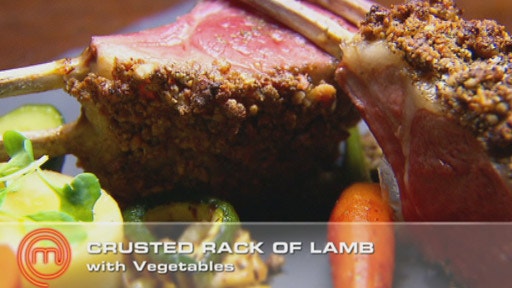 Ingredients
Lemon myrtle and macadamia crust
Steps
Preheat oven to 200°C fan forced.
For smoked lamb, trim excess fat off the top of the racks and clean down the bones. Wrap the bones in foil and set aside. Line the inside of a wok with two layers of foil, and place tea leaves, brown sugar and rice on the foil. Place the wok over high heat and sprinkle 2 tablespoons of water on the tea mixture to get it going. Cover with a lid and heat until the mix is smoking. Turn heat down and place the lamb on a rack inside the wok. Cover and smoke for 6 minutes.
For lemon myrtle and macadamia crust; combine cumin, coriander and sesame seeds in a small frying pan over medium heat until toasted, cool slightly. Transfer to a mortar, add salt and pound with pestle until ground. Add lemon myrtle and bush pepper to taste. Add macadamia nuts and pound to a chunky paste. Lightly oil the lamb racks and place onto a greased oven tray fat-side up. Press the macadamia spice paste onto the surface of the lamb fat. Bake, crust-side up, for 15 minutes. Remove from the oven, cover loosely with foil and set aside to rest for 10 minutes.
For fondant potatoes, trim the sides of the potatoes and then cut out 5cm rounds with a cutter. Bring butter and stock to a simmer in a saucepan. Add lemon myrtle and lemon rind to the liquid. Gently place potato rounds in the liquid and cover with a round of baking paper. Simmer for 25 minutes or until cooked through.
For poached carrots, arrange carrots in base of frying pan, pour over stock to cover and gently poach until half cooked. Drain, reserving the stock. Heat the frying pan over medium heat, melt butter, honey and bush pepper and carrots and toss until well coated. Set aside.
Chargrill asparagus spears gently on a grill pan until grill marks appear. Dress with lemon juice and set aside. Grill zucchini until charred. Slice into long julienne and set aside.
Poach zucchini wedges in reserved vegetable stock from poaching carrots. Remove peas from snow peas and cook with the zucchini wedges for the last 2 minutes.
Slice lamb racks in half and place on the serving plate with potato fondant, carrots, asparagus, zucchini and peas. Season and serve with micro shiso cress.
Notes
Preparation: 35 minutes Cooking: 50 minutes