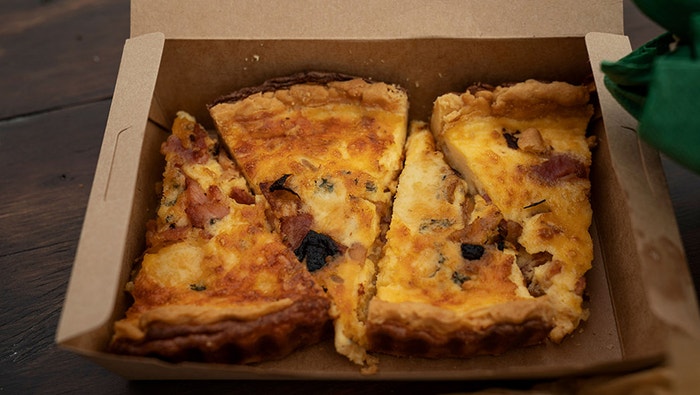 Steps
Preheat oven to 170C.
For the Shortcrust Pastry, place the flour and butter into a food processor and pulse until the mixture resembles fine breadcrumbs.
Add the yolks and 40ml iced water and pulse until a soft dough comes together.
Remove the dough from the processor and flatten in a rough disk. Wrap in cling wrap and place into the freezer for 10 minutes.
Unwrap and roll out the dough on a lightly floured surface until 3-5mm thick.
Carefully lift the dough and drape over a 20cm round pie dish. Press the dough into the dish and trim away the excess.
Prick the base with a fork and chill in the freezer for 10 minutes. Bake for 20 minutes then remove from the oven and set aside.
For the Bacon and Cheese Filling, place the oil and onion in a medium frypan over low-medium heat. Cook until soft and caramelised, about 15-20 minutes. Remove from the pan and set aside.
Place the bacon into the frypan and cook until golden and crispy, about 10 minutes. Remove from the pan and set aside on paper towel.
Place the cream, egg yolks, eggs, salt and pepper in a medium bowl and whisk together until smooth.
Sprinkle the cheddar cheese over the base of the pastry and fill with the cream mixture. Top with bacon and onion and then crumble the blue cheese over the top.
Place the quiche onto a baking tray and place into the oven. Cook until golden on top and custard is set, about 30-35 minutes.
Remove from the oven and allow to cool. Slice into 8-10 slices to serve.