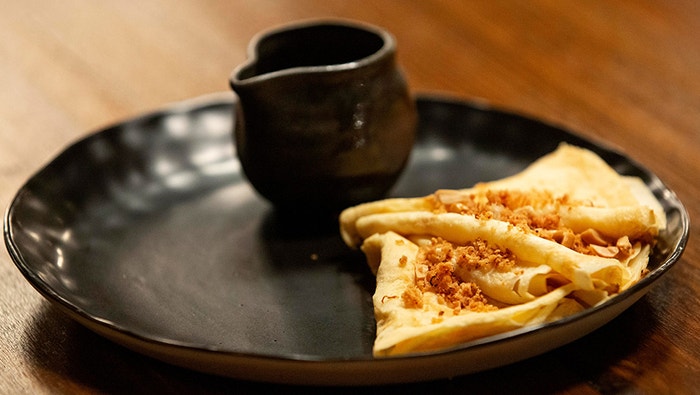 Steps
Pre-chill an ice cream machine and prepare an ice bath in a medium bowl. Preheat oven to 190C.
For the Coconut Ice Cream, grate the flesh from the coconut. Place the flesh into a food processor with 180ml water and process until smooth, about 2 minutes. Scrape the inside of the processor as required.
Transfer the mixture to a medium saucepan. Add the cream and place over medium heat. Bring to just below boiling point then remove from the heat.
Meanwhile, place the egg yolks and sugar into the bowl of a stand mixer fitted with a whisk attachment. While whisking continuously, add the hot coconut cream mixture to the egg mixture.
Return to the mixture to the saucepan and place over medium heat. Stir continuously until mixture thickens and reaches 82C.
Pour through a sieve into a medium bowl and set over the ice bath to cool. Churn the mixture in the ice cream machine according to manufacturer's instructions then place the ice cream into the freezer until required.
For the Toasted Coconut and Peanuts, grate the flesh from the coconut and spread onto a baking tray. Spread peanuts over a second baking tray and cook in the oven until golden, about 8-10 minutes. Remove from the oven. Transfer the peanuts to a clean tea towel and rub to remove the skins. Roughly chop the peanuts and set both trays aside to cool.
For the Crepes, place the butter into a small saucepan and place over a medium heat. Allow to melt, swirling the pan occasionally until the butter turns light brown in colour. Remove from the heat and allow to cool.
Place 35g of the cooled brown butter into a medium bowl with the remaining ingredients and 500ml water. Whisk to a smooth batter then set aside at room temperature for 20 minutes.
Place a crepe pan on medium heat. Add one ladle of crepe batter to the pan and swirl quickly to make a thin even layer and pour off excess batter back into the bowl. Cook for 2 minutes on each side. Remove from the pan and fold into quarters. Repeat with remaining batter to make a total of 12 crepes. Set aside in a warm place.
For the Lychee Caramel, place the sugar into a small saucepan over medium heat. Cook until sugar melts and is amber in colour. Remove from the heat. Whisk in the butter and then the lychee juice. Simmer over low heat until reduced and syrupy. Transfer to a serving jug.
To serve, place 2 folded Crepes onto each plate and top with a spoon of Coconut Ice Cream and a sprinkle of Toasted Coconut and Peanuts. Drizzle with the Lychee Caramel.