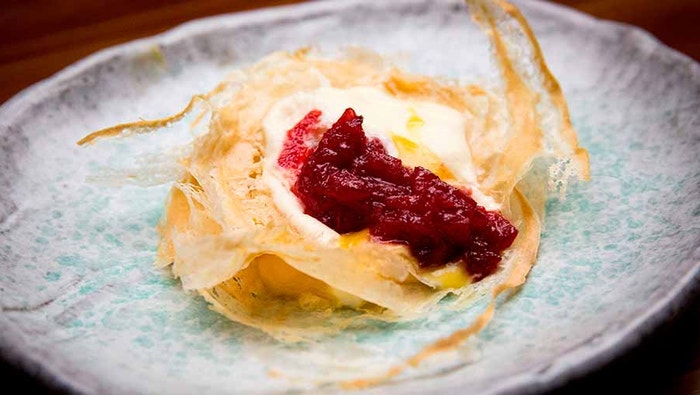 Steps
Preheat oven to 180C.
For the Lemon Aspen Curd, whisk together all ingredients and then place in a medium saucepan over low heat, stirring constantly until the curd thickens and coats the back of a spoon. Strain into a bowl and allow to cool completely. Transfer to a piping bag and set aside in the fridge until needed.
For the Quandong Jam, combine all ingredients in a small saucepan and stir occasionally with a wooden spoon over medium heat until the mixture reduces and becomes a jam consistency, about 10 minutes. Remove from the heat and set aside.
For the Brik Pastry, place a small saucepan of water over medium heat and bring to the boil. Once boiling, sit a crepe pan over the saucepan of boiling water.
Combine flour, water, vinegar, oil and salt in a food processor and blitz to a smooth batter. Transfer the batter to a bowl.
Using a pastry brush, brush the batter, in broad strokes onto the hot crepe pan to form a very thin layer about 12cm in diameter. When the edges of the pastry start to lift, carefully flip the pastry sheet. Remove from pan and set aside on a lined baking tray and continue process with remaining batter to yield a further 7 sheets.
Brush the pastry sheets with melted butter and then bake in the oven until crisp and golden brown, about 12-15 minutes. Remove from the heat and set aside.
For the Soft Cheese Mousse, whip the cream and sugar to stiff peaks in a medium bowl. Fold the fresh soft cheese through and set aside in the fridge.
To serve, spread a small circle of Soft Cheese Mousse in the middle of each serving plate, top with a teaspoon of Quandong Jam, and pipe dots of Lemon Aspen Curd on top. Cover with a sheet of Brik Pastry. Spread another circle of the Soft Cheese Mousse into the middle of the Brik Pastry, spoon another teaspoon of the Quandong Jam and pipe some dots of the Lemon Aspen Curd on top to finish.