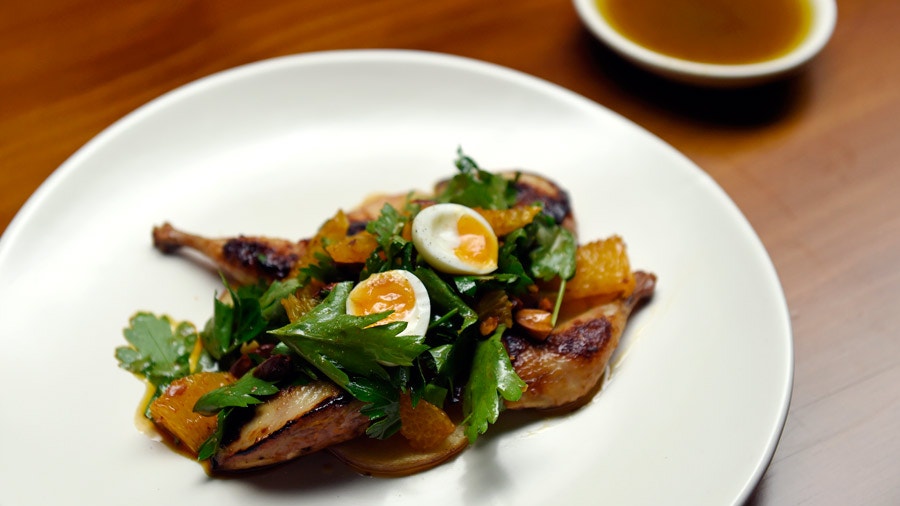 Steps
Preheat oven to 180C.
For the quail de naranja, prepare the marinade by combining thick cut marmalade, 2 tbsp olive oil, orange and lemon zest, salt and pepper in a shallow dish and mix well. Cut four quails in quarters and place in marinade and toss through. Set aside in fridge.
Chop remaining two quails into small pieces and place into a small flameproof roasting dish over high heat. Cook until brown and caramelised. Add thyme sprigs then transfer to oven and roast for 20 minutes. Return roasting dish to a medium heat and add parsley stems, 2 cloves garlic, white wine and 1 tbsp sherry vinegar. Simmer until reduced by half then add 350ml water and 1 tbsp sweet orange marmalade. Simmer for 15 mins until reduced. Strain into a jug, season to taste and set aside.
For the potatoes, slice into 1cm thick rounds and place in a medium bowl. Toss with 2 tbsp olive oil, remaining 3 cloves garlic, salt and pepper. Spread out onto paper lined baking tray and bake for 35-40 minutes until tender and golden. Set aside.
For the almond and orange salsa, toss the almonds in the remaining 1 tbsp sweet orange marmalade and spread out on a paper lined baking tray. Bake for 10-12 minutes until deep golden. Chop roughly and place into medium bowl. Add roughly chopped parsley leaves, halved orange segments, 1 tbsp sherry vinegar, smoked paprika, 1½ tbsp olive oil, salt and pepper. Mix gently to combine and set aside in fridge.
For the quail eggs, bring small saucepan of water to the boil. Carefully lower quail eggs into water and boil for 2 minutes. Remove from water then place into bowl of room temperature water. Peel carefully and slice in half.
To cook the quail, heat a large pan over medium high heat. Add vegetable oil then marinated quail and cook, reducing heat if necessary, for 2 ½ - 3 minutes on each side until quail is cooked through. Remove from pan and rest.
To serve, lay potatoes in base of serving plates. Top with quail de naranja, almond and orange salsa, quail egg halves and sherry vinegar jus.