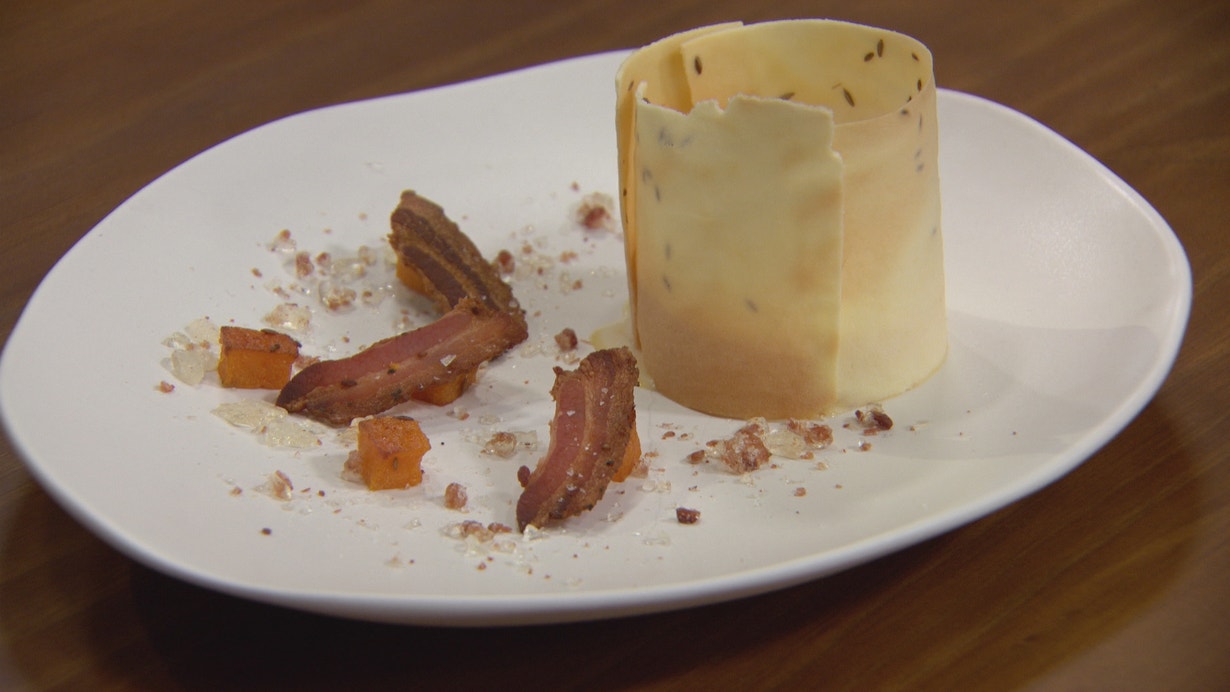 Steps
Preheat oven to 180C.
For the Pumpkin Ice Cream, combine grated pumpkin with 80ml of the milk and 80ml water in a small saucepan over low heat. Cook, stirring regularly, until soft. Drain off liquid then pass through a fine sieve. Set puree aside to cool.
Whisk egg yolks and sugar in a bowl until thick and pale. Meanwhile, place remaining milk and the cream into a small saucepan over medium heat and bring to a rolling boil then remove from heat. Whisk hot milk cream mixture into pale egg yolk mixture then return to the saucepan and place back over low heat. Stir continuously until mixture thickens and coats the back of a spoon. Remove from heat, strain into a clean bowl and place over an ice bath until cool.
Once cool, add in reserved pumpkin puree and gently fold through until fully incorporated. Pour mixture into a 34cm x 27cm shallow baking tray lined with baking paper and freeze until firm.
For the Cumin Tuile, whisk flour, sugar and egg white together until combined then slowly incorporate melted butter. Using a palette knife, spread mixture evenly into a 28cm x 25cm rectangular shape onto large paper lined baking tray. Sprinkle with cumin seeds.
Place into the oven and bake until just starting to colour, about 10 minutes. Remove from oven and working quickly, cut four 33cm x 7cm rectangular strips. Working quickly, roll each strip around an 8.5cm cylinder mould. Set aside to cool and turn crisp.
For the Roasted Pumpkin Cubes, line a baking tray with baking paper. Place pumpkin cubes into a bowl with cumin, oil, salt and pepper and toss until evenly coated. Spread out onto lined baking tray and bake, stirring occasionally until caramelised, about 20 minutes.
For the Pancetta Praline, line a baking tray with baking paper. Heat a small frypan over medium heat. Add pancetta pieces to the pan and fry off until browned. Remove from heat and drain on paper towel.
Meanwhile, bring sugar and ¼ cup of water to the boil in a small saucepan. Cook until sugar reaches an amber colour then remove from heat. Pour caramel onto lined baking tray and sprinkle with diced fried pancetta. Set aside to cool completely.
Once cool, break up into small pieces then place into a food processor and blitz to a coarse crumb. Set aside.
For the Pancetta Chips, lay pancetta slices flat onto a baking tray lined with baking paper. Cover with a second sheet of baking paper and top with a second baking tray to weigh down. Bake until crispy, about 15 minutes. Set aside.
To serve, remove tray of Pumpkin Ice Cream from freezer and use an 8cm ring cutter to cut out 12 x 8cm discs. Stack 3 discs on top of each other onto each serving plate. Carefully remove Cumin Tuiles from the cyljnder moulds and lower a Cumin Tuile onto each plate to surround the Pumpkin Ice Cream stack. Scatter some Roasted Pumpkin Cubes, Pancetta Praline and Pancetta Chips around each plate.