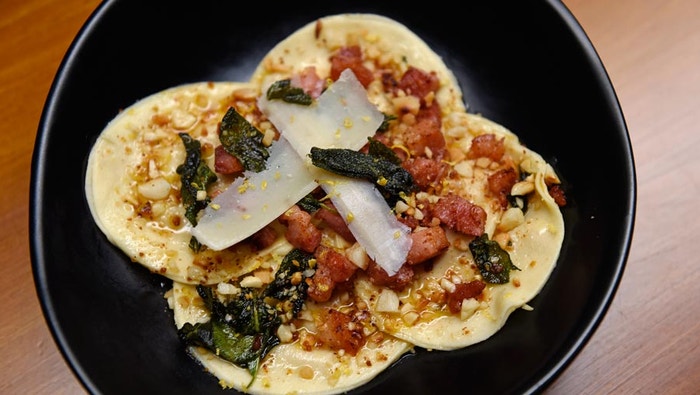 Steps
Preheat oven to 180C.
For the Pasta, place flour in a bowl and make a well in the centre. Crack eggs and yolk into the well and mix gently with your fingertips until dough comes together.
Lightly flour a chopping board and transfer dough to board. Knead dough until smooth. Roll into a ball and cover with cling wrap. Set aside in fridge for 30 minutes.
For the Pumpkin and Goats Cheese Filling, spread diced pumpkin and garlic onto a baking tray and drizzle with olive oil. Roast until caramelised, about 20 minutes.
Remove from oven and transfer roasted pumpkin and garlic to a bowl. Add remaining ingredients and mash together with a fork until smooth and creamy. Season to taste and set aside.
For the Macadamia Crumb, place macadamias in a small frying pan over low heat. Stir occasionally until golden then remove from heat. Transfer toasted macadamias to a food processor with breadcrumbs and blitz to a coarse crumb. Place crumb mix back into the frypan over medium heat and fry until golden. Remove from heat and top with lemon zest, set aside.
For the Spec and Sage Sauce, melt butter in a frypan over medium heat. Add spec and fry, stirring occasionally until slightly caramelised but not crisp. Add sage leaves and cook until leaves are crisp. Set aside.
To finish the pasta, bring a large pot of salted water to the boil.
Prepare a bench by lightly dusting with flour.
Meanwhile, remove dough from fridge and divide into 4 portions. Roll 2 of the portions through the pasta machine to the thinnest setting to form 2 long sheets. Lay sheets on a lightly floured bench, place teaspoon amounts of the Pumpkin and Goats Cheese Filling along the pasta sheets, about 7cm apart. This should make two sheets of 8 ravioli.
Brush some water around each teaspoon of filling. Roll the remaining 2 portions of dough through the pasta machine into 2 long sheets and lay a second pasta sheet on top of the sheets of filling, pressing around each spoonful to seal.
Cut each ravioli with a 6cm round pastry cutter and ensure edges are completely sealed.
Add ravioli to boiling water in batches and cook until al dente, about 3 minutes. Remove from water and strain.
To serve, place ravioli into the centre of the bowl. Spoon some Spec and Sage Sauce on top and add a sprinkle of Macadamia Crumb. Finish with some shaved parmesan.