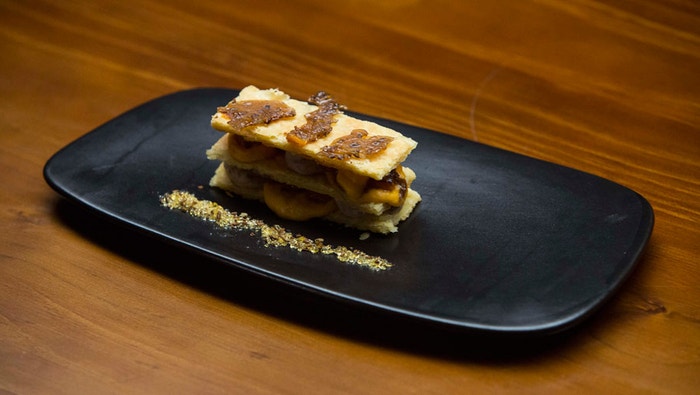 Steps
Preheat oven to 200C. Line one large baking tray and one small baking tray with baking paper.
For the Rough Puff, place flour, butter and salt in a food processor and blitz until mixture resembles coarse breadcrumbs with pieces of butter still visible. Add ¼ cup iced water and mix until a dough is just formed.
Lightly flour a clean work surface and then roll dough out to a rectangle. Fold the short ends into each other to meet in the middle. Then dust and roll the dough lightly, retaining its' rectangular shape. Give the rectangle of dough a quarter turn 90 degrees clockwise. Fold the two short ends over again onto itself in a book fold. Repeat this process twice again, rolling, turning 90 degrees clockwise, and lightly dusting with flour after each fold. Wrap in cling wrap and place into the fridge for 10 minutes.
Remove dough from fridge. Repeat roll and turn process once again to finish the turn cycle, then roll dough out to a 24cm x 20cm rectangle. Place onto the pre-lined large baking tray. Cover with another sheet of baking paper and top with another baking tray to weigh down. Bake until golden, about 25 minutes. Remove from oven and allow to cool, then cut 12 pieces to 11cm x 3cm. Set aside.
For the Caramelised Pumpkin, melt butter in a medium frypan. Add pumpkin and cook over medium heat until cooked halfway through. Add sugar and cumin seeds and continue to cook until sugar has melted and pumpkin has caramelised to a golden brown colour. Remove pumpkin pieces and set aside. Reserve caramel for the pumpkin cream.
For the Pumpkin Cream, place pumpkin in a small saucepan of water and bring to the boil and cook until tender. Drain pumpkin and transfer to a food processor along with milk and 2 tablespoons of the reserved caramel then blitz to a smooth puree. Fold pumpkin puree through whipped cream, transfer to a piping bag and set aside in the fridge until required.
For the Chestnut Cream, combine chestnuts, grated ginger and milk in a small saucepan and bring to the boil, reduce heat and simmer until chestnuts are tender. Transfer to a food processor and puree until smooth. Fold through whipped cream until combined and transfer to a piping bag. Set aside in the fridge.
For the Cumin Praline, toast cumin seeds in a small frypan on high heat until fragrant. Remove from pan and set aside. Place sugar and 1 tsp water into a small saucepan over medium heat and cook until golden brown. Remove from heat and pour onto the smaller pre-lined baking tray and sprinkle with toasted cumin seeds. Allow to cool then transfer to a food processor and blitz to a fine crumb.
To serve, place a rectangle of Rough Puff pastry onto each serving plate. Pipe a layer of Pumpkin Cream and then pipe a layer of Chestnut Cream on top. Sprinkle with some Cumin Praline crumb then top with another layer of pastry. Repeat layering in reverse order. Finish with a third final layer of pastry. Sprinkle plate with some more Cumin Praline crumb.