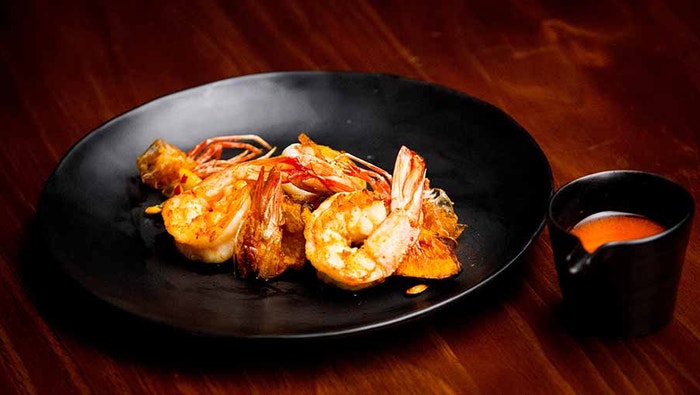 Steps
Preheat oven to 200C.
Place a medium frypan over medium heat. Add butter and oil and swirl to melt. Add pineapple cubes, chillies and beans and cook until the pineapple has caramelised. Stir in the vinegar and sugar and adjust seasoning with a little more sugar or vinegar if desired. Season with salt and pepper and remove from heat. Set aside until needed.
For the Pineapple Vinaigrette, place the oil and prawn shells in a small saucepan over medium heat. Cook until the shells and oil become bright red in colour. Remove from heat and strain oil through a fine sieve into a clean bowl. Set the prawn oil aside.
Place pineapple and green chilli into a blender. Add a pinch of salt and blitz until the pineapple has broken down completely. Strain through a fine sieve into a clean small serving bowl. Add vinegar, sugar and 2 tablespoons of the reserved prawn oil to the juice and whisk well until combined. Season with salt and pepper and set aside.
For the Roast Pumpkin, line a large baking tray with baking paper. Using a spoon, remove the seeds and spread seeds out onto the lined tray.
Slice the remaining piece of deseeded pumpkin into 5mm thick slices and spread onto the baking tray next to the pumpkin seeds. Drizzle with the grapeseed oil and place into the oven to roast until seeds turn golden, about 8-10 minutes. Remove from the oven, transfer seeds to a bowl and set aside. Return the tray of pumpkin slices to the oven and cook until the pumpkin is golden and caramelised, about 25-30 minutes. Remove from oven and set aside.
For the Crispy Prawn Heads, heat oil in a small saucepan to 180C.
Remove the barbed spine, eyes and helmet from the prawn heads.
Once oil has come to temperature, add prawn heads and fry until crisp, about 3 minutes. Set aside on paper towel until needed.
For the Prawns, place butterflied prawns into a bowl and season with salt and pepper. Place remaining 30ml of the Prawn Oil into a large frypan over medium heat. Add butterflied prawns and fry for 90 seconds, turning halfway, until prawns are opaque and just cooked through. Remove from heat.
To serve, spoon Pineapple Salsa onto centre of the serving plate. Add slices of Roasted Pumpkin around the salsa then lay 3 prawns against the salsa. Scatter with toasted pumpkin seeds and crispy prawn heads. Serve Pineapple Vinaigrette on the side.