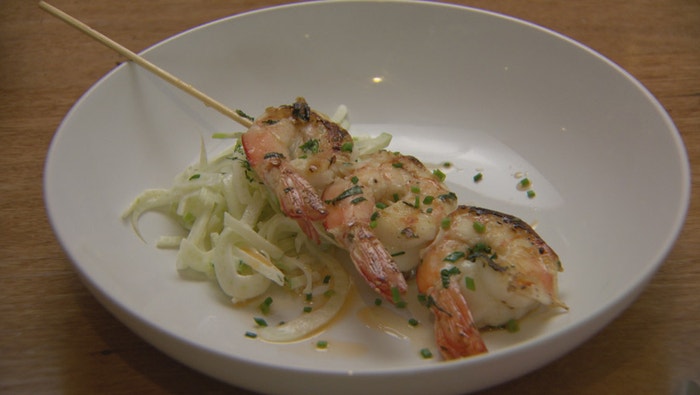 Steps
Preheat oven to 200C. Place 12 wooden skewers into a tray of water and set aside to soak until required.
For the Prawn Oil, place all ingredients except for the tomato paste into a shallow roasting tray and place into the oven until caramelised, about 25 minutes. Remove from oven and strain oil into a clean small bowl. Stir in tomato paste and set aside.
For the Fennel Remoulade, decrease oven to 180C. Place garlic cloves onto a sheet of foil. Drizzle with olive oil and season. Wrap foil around garlic to form a parcel and place into oven for until soft, about 20-25 minutes. Remove from oven and set aside to cool.
Meanwhile, place egg yolk, Dijon mustard and cider vinegar into food processor and blend until thickened. With motor running on half speed, pour in grapeseed oil in a slow, steady stream until emulsified. Squeeze out pulp from reserved cooled roast garlic and add to the mayonnaise mixture. Season and blitz until fully combined. Set dressing aside until required.
In a separate bowl, place apple, fennel, dill, lemon juice and reserved dressing and toss gently until fully coated. Season to taste and set aside in the fridge.
For the Prawn Skewers, peel shells away, leaving tails intact. Butterfly and de-vein prawns and place into a large bowl. Add remaining ingredients, season and toss to coat.
Heat a large grill pan. Thread 3 prawns onto each pre-soaked skewer and cook for 3 minutes, turning halfway through, until cooked.
To serve, divide Fennel Remoulade between serving plates and top with a Prawn Skewer. Drizzle with some Prawn Oil.