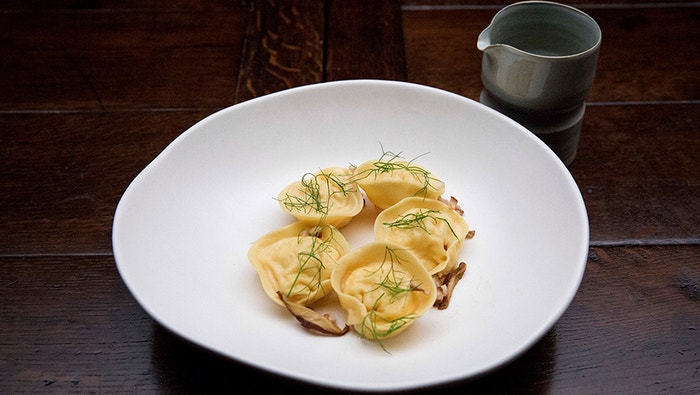 Steps
For the Broth, place oil in a large saucepan and set over high heat. Add bacon, shallots, and fennel and cook until caramelised. Add the prawn heads and shells and cook until they turn orange. Add parsley, garlic, mushrooms, and 1 L of water and bring to a boil. Reduce heat and allow to simmer until reduced by half, about 45 minutes.
Remove from heat and strain through a muslin lined sieve into a clean saucepan. Season with salt and pepper. Set aside, covered, until serving.
For the Pasta Dough, place flour and salt into a large mixing bowl. Make a well in the centre and add the eggs. Using a fork, break up the eggs and gradually add in the flour until the dough starts to come together.
Tip onto a lightly dusted work surface and knead until a smooth, soft dough, about 5 minutes. Form dough into a ball, wrap in cling film and rest at room temp for 30 minutes.
Divide the rested dough into 2 equal portions. Set the pasta machine to thickest setting and pass each portion through the machine. Repeat 5-6 times, folding the dough onto itself each time and dusting with extra flour if necessary. Pass each portion through the pasta machine, adjusting from thickest to thinnest setting.
Using an 8cm round cutter, cut 24 rounds from the lengths of passed dough. Set aside and cover with a damp tea towel to prevent the pasta from drying out.
For the Prawn Mousse Filling, place the vinegar and sugar in a small saucepan and set over high heat. Bring to a boil and allow to boil until reduced by half. Set aside to cool.
Place the prawns in a food processor and process until the mixture resembles a paste. Add the egg white, cream and salt and process until combined. Add 2 teaspoons reserved, cooled vinegar and process until combined. Transfer Prawn Mousse to a piping bag.
Pipe approximately 2 teaspoons of Prawn Mousse into the centre of each pasta round and brush the edges with water. Fold over to enclose filling and press edges to seal. Bring the 2 corners together and press to form a tortellini shape. Repeat with remaining mixture and pasta rounds.
To serve, bring a large saucepan of salted water to a boil. Reduce heat to medium, add the tortellini and cook until tender, about 3-4 minutes. Drain and place into serving bowls. Scatter with shiitake mushroom slices and fennel fronds. Reheat broth to boiling point and gently pour into the bowls.