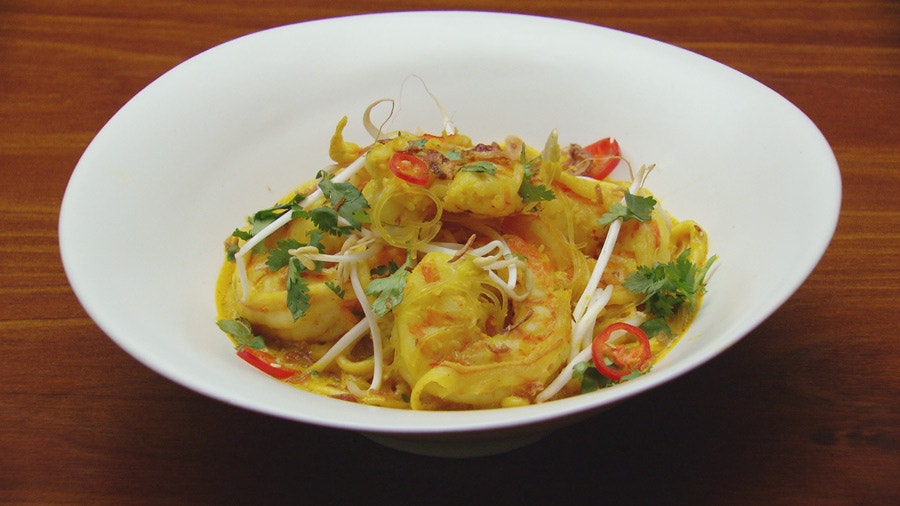 Steps
For the Laksa Broth, place the prawn shells and heads into a pressure cooker with 1.5 litres water. Cook on high pressure for 20 minutes. Release pressure; strain cooking liquid through a muslin lined sieve, reserving the prawn stock.
For the Laksa Paste, place the ingredients into a blender and process to a smooth paste.
Heat a wok over medium high heat. When hot, add the Laksa Paste and fry, stirring, until lightly golden and fragrant, about 5 minutes.
Add the strained prawn broth into the wok, one ladle at a time, stirring to combine. Stir in the coconut milk and most of the fish sauce and lime juice. Season with salt, to taste and add adjust the flavour with extra fish sauce and lime juice, to taste. Remove from the heat. Cover with a lid to keep hot.
For the Egg Noodles, bring a large saucepan of salted water to the boil.
Place the flour into a medium bowl and create a well in the centre. Add the egg and 1/3 cup of water and mix together until dough has formed.
Transfer to a lightly floured work surface and knead until smooth, about 5 minutes. Wrap in cling film and set aside to rest for 10-15 minutes.
Cut the dough into 2 portions. Pass each portion of dough through a pasta machine starting at the thickest setting through to almost the thinnest setting. Pass each length of dough through the spaghetti attachment then dust lightly with flour to prevent the noodles sticking together.
Cook the noodles in boiling water for 2-3 minutes until al dente. Remove the noodles from the water and drain well in a colander. Return the water to the boil.
For the Vermicelli Noodles, place the vermicelli to the boiling water and cook for 1-2 minutes until cooked. Drain in a colander and set aside.
To cook the prawns, place a large frypan over high heat. Add the oil and when hot, add the prawns and cook for 1 minute on each side. Remove from the heat.
To serve, divide the Egg and Vermicelli Noodles between 4 bowls. Ladle over the Laksa Broth and top with the Prawns.
Garnish the bowls with chopped chilli, coriander, fried shallots and bean shoots.