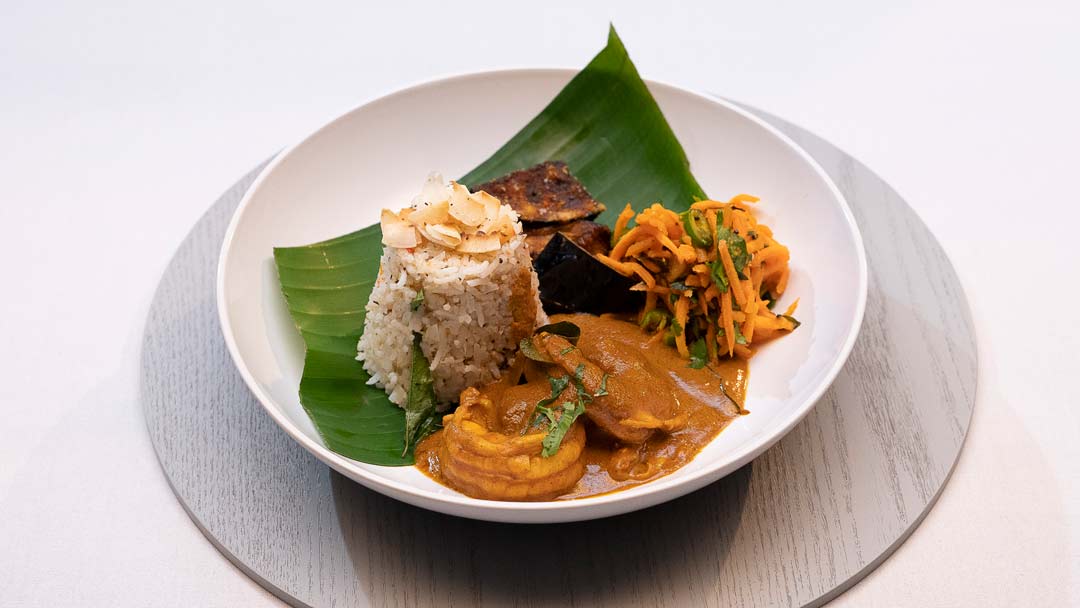 Steps
For the Prawns, soak the dried chillies in hot water for 10 minutes. Marinate the prawns in salt, lemon juice, chilli powder and turmeric powder and set aside in the fridge.
Place the coriander seeds, cumin seeds, fennel seeds, mustard seeds, black peppercorns and cloves into a fry pan and toast until fragrant, about 2-3 minutes. Remove from the heat.
Place the garlic, toasted spices, softened chillies, tamarind puree and a little water from the soaked chillies and blend into a fine paste.
Place 35g ghee into a saucepan over medium heat. Add the garlic paste and cook until lightly golden and fragrant, adding a little water if required. Add the yoghurt, mix well and season with salt, jaggery and lime juice.
Once the curry is cooked and balanced in flavour, about 10 minutes, remove from the heat.
When almost ready to serve, return the sauce to the boil and when sauce is hot, add the prawns. Simmer for 2 minutes then remove from the heat and allow prawns to finish cooking in the sauce. Stir curry leaves through and season to taste.
For the Toasted Coconut Rice, bring a saucepan of salted water to the boil. Meanwhile, rinse the rice and set aside.
Once the water is boiling add the rice and cook according to package directions. Pour the rice into a colander and rinse with cold water. Add some melted ghee and toss it through to prevent the rice from sticking together.
Place the coconut into a wok over medium heat. Stir regularly to ensure coconut is evenly toasted and brown. Transfer to a small bowl.
Wipe out wok and place over medium heat. Add ghee, mustard seeds, curry leaves and chillies.
Add cooked rice and coconut. Add salt and toss to coat for 2 minutes. Remove from the heat and cover to keep warm.
For the Carrot Salad, combine ingredients in a bowl and mix gently. Set aside in the fridge. Mix well before serving.
For the Crunchy Eggplant, heat vegetable oil in a large saucepan or deep fryer to 180C.
Cut the eggplant into 3cm cubes and place into a bowl. Add salt, turmeric powder and chilli powder and toss to coat. Add tapioca starch and toss through. Shake to remove excess then deep fry eggplant until they are brown and crunchy, about 3-4 minutes. Remove from the oil and place onto paper towel. Season with salt while hot and set aside.
To serve, place a piece of banana leaf on each plate. Add prawns, curry sauce, rice, crunchy eggplant and carrot salad. Garnish with fresh coriander and toasted coconut.