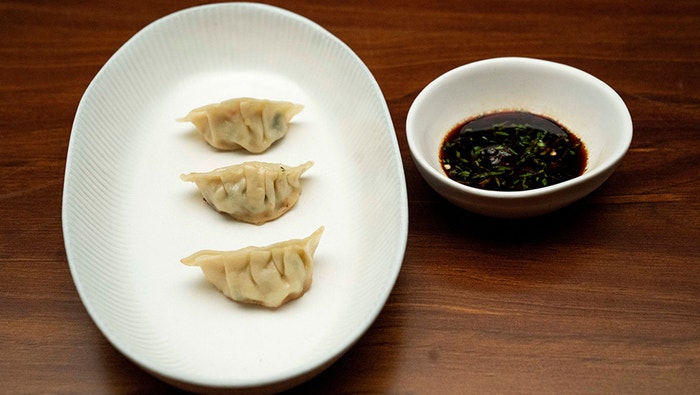 Steps
For the Coriander Dipping Sauce, mix all ingredients together in a small bowl and set aside.
For the Prawn Dumpling dough, place flour, 100ml water and a pinch salt into a bowl and mix until just combined. Turn the dough onto a clean, lightly floured bench and knead until smooth, about 5-10 minutes. Wrap the dough in cling film and allow to rest for 20 minutes.
For the filling, place the remaining ingredients, except the grapeseed oil, into a food processor and pulse briefly until the prawns are roughly chopped. Set aside in the fridge.
Cut the dough into 3 portions. Pass each dough portion through a pasta roller, finishing on the second last setting until the dough is very thin. Lay the dough sheets onto a lightly floured bench.
Using an 8cm ring cutter, cut out 24 rounds from the dough. Cover with a clean tea towel.
Place the filling into the centre of each round. Lightly brush the outer edge of the dumpling wrappers with water. Bring the edges together over the filling and pleat one edge while pressing onto the opposite edge to seal and give the dumpling a curved appearance. Set aside on a lightly floured surface.
To the cook the dumplings, place a large non-stick pan (or 2 if required) over a medium heat and add the oil. When hot, add the dumplings, flat side up and allow to brown, approximately 3-4 minutes. Add enough water to the cover the base of the pan and cover with the lid. Cook until filling has cooked through, about 4-5 minutes, adding more water to the pan if required. Once filling is cooked through, remove the lid and allow any remaining water in the pan to evaporate and the bases of the dumplings to crisp.
Remove from the pan and transfer to a serving plate. Serve with the Coriander Dipping Sauce on the side.